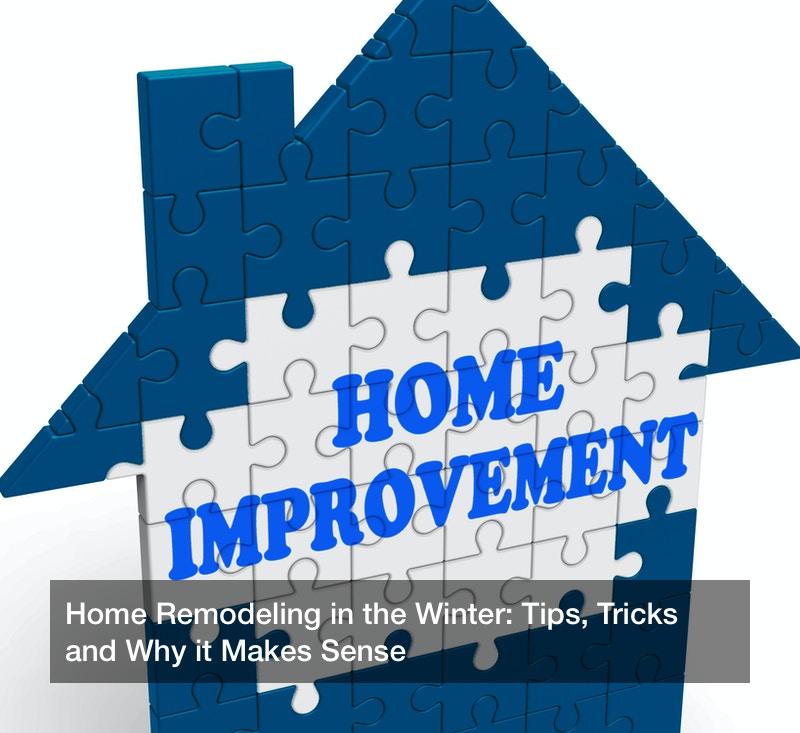 Home remodeling is a trend that never seems to die. Whether you are remodeling because you are planning on selling, remodeling to give your house a new look, or remodeling because there is damage that needs to be replaced, you can rest assured that there is a plethora of information available for the remodel process. Considering that more than 10 million kitchens and 14 million bathrooms are remodeled every year finding information for your remodel should be a breeze. There is never a good time or a bad time to remodel your home, however many homeowners may not think about home renovation in winter. Typically winter is not the most popular season for home remodeling, but aside from thinking about snow removal to make your yard look nice, a home renovation will make your home look nice whether it's 20 degrees or 80 degrees outside. Just because your furnace is working full force, doesn't mean you have to put off a renovation project. No matter what season it is you want your home to feel comfortable meaning home renovation in the winter time makes perfect sense for some. Sure many people are not genuinely concerned with a complete lawn makeover during the winter time, but there are certainly other things that can be remodeled during a home renovation in winter. Read below as we touch on just a few of the benefits of choosing home renovation in winter compared to home renovation in the spring and summer.
Busiest Time of the Year
As stated above, typically other seasons are more popular for home renovations, meaning there is high demand for professionals to perform these renovations. This not only leads to higher prices since the demand is much higher, but it can also lead to longer wait times. A home renovation in winter could mean you are without your kitchen for two to three weeks, while a home renovation in the spring or summer could leave you without your kitchen for six to eight weeks.
Yes, spring and summer are typically seasons for vacations, but so are winters. This means it could be even easier to work in that home renovation in winter. You could schedule the renovation project for when you and your family are away on winter vacation. This could mean that you will not have to worry about not being able to use certain parts of the house because of the remodeling process. You and your family could enjoy your winter vacation and come back to a perfectly done remodeling project in your home.
Think about clothing, there are always new types of clothing coming out, which explains why many retailers eventually put clothing on sale. They must reduce their inventory for new items that are coming. The same is true with manufacturers. They typically get new building products, new home remodel products and new appliances in the spring. During the winter time their prices get cut to clear out old inventory to make room for new exciting products. This means you could essentially save lots of money on your home renovation just by doing it in the winter time.
Since we've discovered that winter time is an ideal time for home renovation let's talk a little about what projects are best fit for the winter months. Of course, you don't want to choose a new coat of paint for your house when there is snow on the ground and it's freezing cold outside or the paint will not dry right leaving your home looking worse than when you started. Not many people think about new landscaping during the winter time, since many plants and trees need special care to survive the winter months. Aside from those projects that are not recommended during the winter months, let's explore some projects that sit well with home renovation in winter.
A Kitchen remodel is an excellent project to tackle during the winter. For one, no one wants to know that they are going to be without their kitchen for an extended period of time as this poses an incredible hardship on anyone. Home renovation in winter cuts down on the time that you are going to be without your kitchen. Appliances could be significantly cheaper than what you would pay during other seasons, and the professionals that you have doing your remodeling job will be faster and more efficient since there are not a number of others waiting behind you to get their remodeling projects done. This means they will take more time and pay more attention to detail to make sure that the job is done right. If holidays are right around the corner consider hosting the holidays in your newly remodeled kitchen. There is no better way to appreciate a home renovation in winter than to show it off while you enjoy the newly remodeled space. Enjoy holiday dinners together in your new kitchen and make it a gathering place for all of your loved ones. Once you have your beautifully crafted kitchen, you can kick back with a large pot of homemade soup and enjoy the cold weather in your beautifully renovated kitchen.
Bathrooms
Kitchens are not the only room in your house that can benefit from a winter remodel. Your bathroom is another excellent area in your house to remodel during the winter months. This is a great time to update your shower and bath options. For those who experience hard water, have a water softener installed during the process. Winter is harsh on skin, and warm and hot showers do not help matters at all. A water softening system will help keep your skin soft even after that steamy hot shower on a cold winter night. Consider updating your cabinets and your counter tops in your bathroom. Don't forget about light fixtures while you are remodeling. Something as simple as changing the light fixtures can change go a long way in providing the change that you are looking for. If you are looking for more light consider changing to a multi light fixture over your sink. If you are tired of the same covers consider more sleek covers. Light fixtures are inexpensive but definitely make a statement. Don't overlook faucets while you are remodeling. If you changing your bathtub or your shower consider new faucets while you are making changes.
Interior design changes can go a long way with changing the feel of the inside of the house. Simple things can make a huge change in your entire home or even one room. Choosing to change up the interior design is cost effective, won't break the bank and is something that can be done over time. Consider a few pointers when it comes to changing your interior design during home renovation in winter time. Have a plan before you start the process of changing your interior design on your home. Having a plan will help keep everything flowing especially from room to room, and keep it from becoming a jumbled cluttered mess which is the opposite of what you want. It seems as though every time you turn around there are new things to add to your home, new designs and new trends. This is great, except it can get pricey quick. Save yourself time, hassle and money by sticking to trending accessories that can be changed out, interchanged or even tossed for new ones. Don't go crazy throwing all of your old stuff out and getting all new stuff. Consider what things that are old that you want to keep and work around those. While you don't have to keep everything, you will want to keep some things that say something about your personality, your style and your space.
Furniture
Choosing new furniture can make an old room feel new again. Whether you choose to buy all new furniture or just a few pieces to add to your current collection you can make a big difference. Larger things like couches, love seats and chairs are obvious things that can make a big difference, but don't forget about the smaller things that go along with changing the look of your furniture. Consider different throw pillows for your couches. Choose a rug that matches these and that draws attention when others walk into the room. Consider getting some small pieces to set on end tables and shelves which compliment the throw pillows. Small changes can go a long way to make a huge difference. Not only is changing the furniture a good place to start, but changing accent pieces in the room that you are remodeling can make it look like an entirely new area to your family, friends and guests. If you're looking to update your space consider simple things like new fabric on larger items like couches and love seats. If you are looking to replace them completely then choose items that you can enjoy for years to come no matter what other changes you choose to make. Choosing larger furniture that you can work around will give you endless possibilities when it comes to redecorating.
Fine art is an excellent way to bring some subtle change to a room in your home. Consider larger pieces to draw attention in larger rooms, and consider smaller pieces to accent existing furniture already in your home. Things like rugs and curtains are great things to match fine art in your home. Subtle pops of color can transform the way a room looks. If not much light gets in consider lighter curtains to allow more natural light into the room. If you are choosing a larger piece of fine art make sure to allow enough space on the wall so that it draws attention rather than making it look cluttered. Consider how much natural light will hit the fine art you hang. You don't want your fine piece to get sun damage from the sunlight, so consider where you decide to place it carefully. Consider different focal points for different rooms. Some rooms you want to have a higher focal point, while others you will want to have a lower focal point to draw attention elsewhere. On walls where you are using smaller pieces of fine art, don't stop with one. Choose multiple pieces of fine art for one wall is an easy way to express yourself within a room. Consider choosing pieces painted by one artist, or pieces that share the same style. Don't forget that fine art doesn't just have to be canvas pieces either. You can choose from canvas prints or frames to display your fine art. If you choose frames use these to not only complement the piece that you choose to hang, but to also express your style and compliment the accessories within the room. A little careful planning can help completely tie everything within one room together.
As you can see home renovation in winter makes more sense than most people think. Just because it is cold outside and the furnace is running doesn't mean that you can't change the way the inside of your house looks. Many people spend more time inside their home during the winter months than they do during the spring and summer months, so it makes sense to consider home renovation in winter. Always remember that whether you choose to remodel on your own or hire professionals, there are a few precautions that you should consider. If you are performing electrical work you want to make sure to use the services of an experienced electrician to make sure that the work is done properly. If you are updating your bathroom you want to make sure that you use an experienced plumber to make sure that the job is done correctly. You should ensure that there is proper ventilation in the room that you are working in. Consider cracking a window if it is too cold to open one. If the temperature will not allow any fresh air, consider negative pressure fans to help with any dust from the remodel or any fumes from materials or fresh paint. Experience professionals can help you with this including sealing off ducts within the house and using filters that collect the dust so that it's not blown throughout the house.
F.Y.I.
Many people don't consider the preparation that it takes to get a home remodel done and this includes home renovation in winter. Many times homeowners must pull a permit in order to get the remodel done, or even get it started. During the spring and summer months, there are many many permits being pulled, which, of course, means that there could be a substantial wait for those permits to be approved. Choosing a home renovation in the winter means fewer permits are pulled, therefore cutting down on the wait time for those permits to be approved. Don't forget about inspections too, beating the rush on inspections means significantly less wait time for.