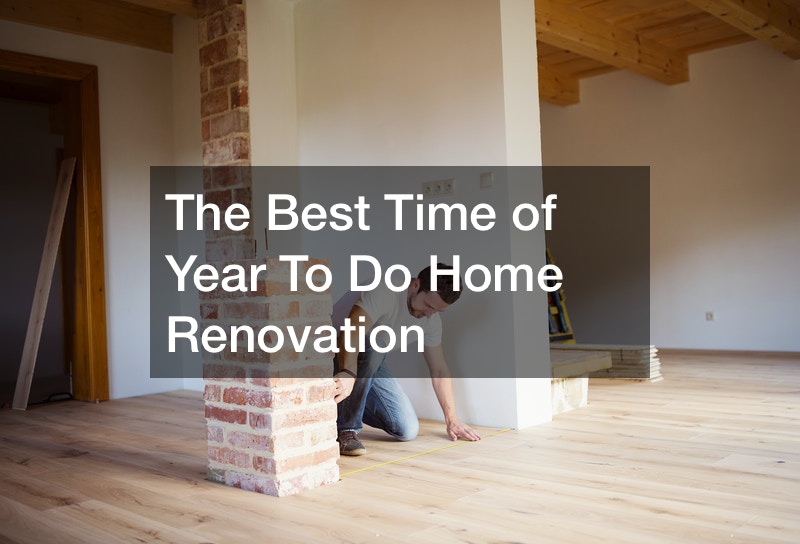 A new house will take up to ten years before the need for renovation and upgrades arises. It is vital that before the time comes, you should be ready and prepared to provide the services it deserves. While there are several home renovations you can do, the season and time also determine the effectiveness of your efforts. So, when the best time of year to do home renovation? What are the best upgrades to consider in these times?
Spring, Summer, or Fall: Upgrading Your Fence or Deck
While the wood on your fence or deck may fare better in winter, a temperature change will cause staining and other concerns. The weather needs to be warmer for effective renovations of your deck and fence. You should be keen enough to work in spring, summer, or fall as it's the best time of year to do home renovation. You will elongate the services period of your deck or fence when you are keen on the climatic changes. The warm weather is vital to your needs as it reduces the chances of wood rot and the buildup of mildew.
It can be overwhelming knowing the right time to implement the renovation projects, especially when there are sudden repair needs, so you should look for a professional to consult. A deck and wood fence painting and renovation expert will tell you more and recommend the best time of the year to consider upgrades. With such knowledge, it will be easier to meet your expectations and giving your home the care and attention it deserves. You also learn effective repair and maintenance tips that will help you upgrade and care for your deck and fence.
Late Spring, Summer or Early Fall: Home Expansion
When the space in your home is becoming limited, it is a sign that you should consider renovations and upgrades for expansion. This is vital as the comfort of your family depends on the space available. A home expansion is a long and tiresome project that involves both the interior and the exterior. This means avoiding seasons where the weather will complicate things and cause a delay in the project. You should have a plan ready in early spring as this will help you organize materials and seeking professional services by later spring. For home renovations, the additional time is essential and more reason to have a plan early.
Late spring, summer, and early fall are vital for home addition projects because the snow in your region has passed, making it easier to mix concrete and organize other building materials. You also have enough time to handle the renovation work before frost returns in the fall, making it hard to complete the project. With an effective plan, you not only get to work with the right contractor but also have time to complete both the interior and exterior upgrades to your taste. When you schedule the professionals you need in your project in advance, meeting your deadline becomes easier.
Summer or Early Fall: Roof Repair and Replacement
The roof is not only a shade for your home but also a protective measure from unforgiving weather conditions. Your roof must remain in its best condition to improve its functionality. When looking for the best time of the year to do home renovation that involves roof repair and replacement, you should consider summer and early fall. It is hard to do effective home roof inspection during winter or in wet conditions hence the need to wait till summer or early fall. You should note that the effectiveness of the roof repair and replacement project depends on the weather conditions.
There are different aspects of your roof that you should look at before implementing the renovation project. The right roofing companies will help you understand why summer or early spring is vital for your projects. It will also be easier to understand the upgrades to make when you have a reputable contractor working with you. Renovation must remain long-lasting and sustainable, which is why having the right information and working with the right professionals becomes paramount.
Early Fall: HVAC Care
Installing an HVAC system is among the best decision you can make for your family. With the right system, you increase your home's comfort level and reduce the overall operational costs. However, like other appliances you have in your home, your HVAC system will start to experience wear and tear with time. You should provide the right repair and maintenance services to your system as soon as you notice an issue. The best time to consider repair and maintenance work is during early fall and seek residential HVAC services to do a productive job.
Early fall becomes the best time of year to do home renovation and specifically your HVAC care., The weather is conducive and noticing any potential problems becomes easier as soon as you turn on the heat. At this time, you can also access and schedule professional services and conduct routine maintenance to your system with ease. In early fall, you are in a position to get quality residential air conditioning repair services and get your system fixed before the first cold nights of the season hit your doors.
Fall: Adding New Appliances
Finding the best time of year to do home renovation can prove hectic to most homeowners. However, if you are thinking of adding new appliances to your home, you should consider fall. The fall is the time leading to the holidays. This means there is a lot of excitement in the markets and other shopping centers. Chances of getting new products on offers and promotions are higher as you enter the holidays. As a consumer, you can expect everything to be on sale during fall, making it possible to buy appliances that will upgrade and make a change to your home.
Washing machines, refrigerators, ovens, among others, are some of the appliances that you can easily and cost-effectively get and buy at the stores in the fall. You should note that adding new appliances becomes vital as you get a chance to plan and prepare well for when the time to upgrade your kitchen comes. You will also save money and time for the upcoming projects when you consider looking for new appliances during the fall. Always keep an eye on the deals, offers, and promotions that come with this time in different stores.
Late Spring, Summer or Early Fall: Exterior Painting
If you want to refresh and add value to your home, effective exterior painting will make it easier for you. You will freshen up the exterior look of the walls, the pavements, and your wooden or wall fence when you consider painting. You should, however, note that the season or time of the year, to a larger extent, determines the productivity of your efforts. When looking for the best time of year to do home renovation, specifically exterior painting, you should plan for late spring, summer, or early fall for better results.
Planning for exterior painting for late spring, summer, or early fall becomes beneficial as the temperatures are always high and optimum for the project. The temperatures need to remain above 35 degrees for better results and more reason to be keen on the season. The right painting contractor will advise and guide you on the best time to consider painting your exterior. It will also be possible to learn effective maintenance tips when you look for a reputable painting contractor. Remember that the efforts put in painting the exterior of your home will determine how stylish and attractive it will be in the long run.
Spring or Fall: New Floors
The floor is one of the areas in your house that gets a lot of attention and hence susceptible to damages. You should provide the right repair and renovation services to your floor and increase the functionality of your home. If your home lacks the right floors, you and your family will not enjoy the comfort that comes with it. You should find the right materials to use for floor renovation and maintenance for better results. Wood flooring is among the many you can consider. You should, however, not that installing wood flooring becomes effective during times of the year when the weather conditions are least extreme.
Spring or fall offers you the best platform to renovate and upgrade your home. You should, however, note that other factors such as asbestos removal will determine how far your efforts will go, especially if the house is old. Asbestos can interfere with your project and have negative impacts on your family. It is vital to consider asbestos abetment before proceeding with the new floor installation during spring or fall. Look for a company that does the inspection, removal, and house maintenance for you. This is will also help you achieve your objectives with ease in the long run.
Early Spring and Fall: Cleaning Up Gutters
The gutters are essential parts of your roofing. Gutters protect water from reaching the walls and also enable effective water drainage. You should also know that gutters collect leaves, twigs, and other debris as seasons and weather conditions change. This calls for effective renovation and maintenance services to elongate its functionality in your home. The best time of year to do home renovation and specifically unclogging, draining, and cleaning the gutters is early spring and fall. This is vital as you will avoid more problems in your home when you clean out the gutters and create a path for clear waters to flow when the April rains roll in.
However, you should look for contractors roofing services for quality work and avoid damaging the roof when you do it yourself. This is essential as there are several aspects of the roof that you need to be careful about. A roofing contractor will guide you on how best to clean the gutters while maintaining the credibility of your roofing. When you damage the roof, it also means dealing with other issues that you are not ready for. You also save time and money when you have a roofing contractor working with you.
Winter: Electrical Repair and Maintenance
While it is significant to handle electrical repair and maintenance needs as soon as they arise, other major renovation needs will require enough time to handle them. The best time of year to do home renovation and major electrical updates is during winter. The winter period provides the best time for you to concentrate on electrical updates because of the low completion. You can effectively access residential electrical services during winter than during summer when there is a big influx of requests and demands from clients.
You need the technician to look at the electrical needs in your home without the hurry or pressure that comes with limited time. When you get the electrical renovation and upgrades during winter, you also create space and time for other improvement projects during summer. You will spend quality summertime with your family instead of worrying about electrical problems in your home.
Fall: Landscaping and Lawn Maintenance
If you dream of transforming your yard and making your home stylish and inviting, you should invest your time and money into landscaping and lawn maintenance. You will boost your home's curb appeal, especially when you pay attention to the landscaping. With the many trendy designs that can make your house look elegant, achieving your goals becomes easier in the long run. You should, however, note that the weather conditions will to a larger extent, determine the effectiveness of the effort put in. the best time of year to do home renovation – landscaping and law maintenance – is during fall.
During fall, the plants thrive in mild conditions as they help them replenish and enable quick growth and flourishing. During fall, you are also in a position to try out new plants as they have a higher chance of surviving. To make the landscaping project effective, you can also utilize garden sprinkler services, especially in areas where there is a water shortage. When you compliment your landscaping efforts with such services create a paradise in your home becomes a reality.
The services you and your family will get from your home depend on the efforts put into renovating and the maintenance services you provide. You should note that effective improvements in your home go a long way into making you, your family, and loved ones comfortable. As much as there are several renovations and updates you can give your home, the time to implement them is also a factor to consider. The year provides an opportunity to do the right updates to your home, but you have to understand when. The needs of your home determine the best time of year to do home renovation, making it essential to have the right information and knowledge.