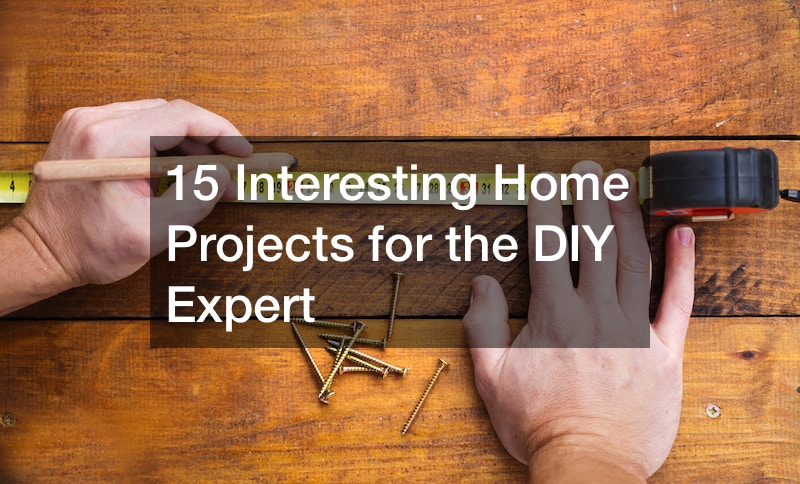 If you're a DIY expert, this post is for you. This article covers some excellent projects you could do in and around your home and not have to spend extra to call in a special company to do it for you. As a DIY pro, you probably already have a variety of tools and equipment to get most DIY jobs done. So, continue reading as we share some of these excellent projects.
1. Build an In-Ground Pool
When thinking about a pool, most people think it's only possible to have a pool if you get a company to install it for you. Sure, you can do this as it will save you time, energy, and the manual labor involved. You may also choose to do it yourself, and since it is possible and you're a DIY expert, you can tackle this job.
Bob Villa has a complete tutorial that you can check out for the step-by-step process to build your very own pool in the comfort of your property. While you're at it, before getting started, you should also find the ideal pool location, ensuring you can see it from inside your house. Next, think about filtration systems to keep the pool water clean. Considering the costs for the equipment and completion, building and the pool water delivery are vital. In this way, you can have a better idea of what your expenses will be.
2. Home Office in Your Garden
Instead of looking for offices for sale, you can make your own. You can tackle the building of your very own home office in the garden. If you have room in your garden to add an additional outbuilding, then why not secure this space for a garden office? You can use recycled wood, treated steel, or concrete to create the structure of the building. You might already have an old shed or other building that isn't in use; it would be the ideal repurposed garden office.
The conversion of your office may require you to remove all the additional stuff stored in the space. You can paint the interior and install some shelves for storage, add a desk and chair, and you're good to go. You could also go with a full sliding door with a large glass wall to ensure ample natural light is shining through.
3. Transform Flat Walls
If you're looking to give some of the walls in your home depth and a 3-D design, consider adding some frames onto it before a coat of paint. This is easily done by including the building of square frames using a light wooden material and attaching it to the wall of choice. This can give your home a unique and interesting look.
4. Make and Install Fun Signs In the Home
Spruce up your home with the addition of signage. There are some catchy, funny, heartwarming signs you could add on the inside of your home. For instance, at the bar, there might be some fun ones like 'bottoms up', or 'it's 5 pm somewhere in the world.' The more commonly seen signage in the home includes the homely heart-touching ones like 'family love,' 'bless this home,' or 'live, laugh, love,' to name a few.
You can get the kids to help, maybe add their names to their bedrooms using LED sign lights. This may also give them a sense of uniqueness, ownership, and something that is exclusive to them. Led-lit signs are always great and add the ambiance of a night light in the children's bedrooms. You can purchase and install the signage or make them completely from scratch as a DIY expert project and one of many you're already great at doing.
5. Tackle the Car Repair
You might be the DIY expert with hidden additional talents like working on your car. You may have learned some mechanic work over the years and picked up a few tricks as you went and from self-experience. Hence, you might already know a thing or two about the repairs a car requires and how to do it yourself.
You could be on point with the knowledge of servicing your own car, and this will be even more beneficial, saving you dollars as you simply buy the parts and install or replace them yourself. Other fixes like auto AC repair are also something the avid DIY expert can easily take on. AC maintenance may include changing the cabin filters to ensure that the air you're breathing is still good after the installation.
6. HVAC Work
Just as the air conditioner is important in your motor vehicle, so too is the air you breathe inside your home. Yes, temperature control is needed throughout the year, with winter calling for effective and fully operating heating systems. While summer's warm weather calls for air conditioning.
Still, your HVAC might not be working as efficiently, and you could take this opportunity to work on the heating repair and fixing everything that may need attention. Changing the filters will also help the air filters work more efficiently. This will ensure allergy irritations are kept low.
7. Appliance Repair
Is the kettle out of commission? How about the oven? Sometimes, it is easy fixes that seem bigger than they are since they can put an entire piece of equipment out of commission. For instance, the oven won't bake or heat up at all. In this case, it might be a faulty or broken thermostat that needs to be replaced. Still, if you had just considered it not from a DIY point of view, then you might not have realized that it is something small and there is no need to panic.
Refrigerator repairs can also cost a lot of money, and sometimes most of the money goes towards the technician coming to your home. The bulk of the money also goes towards the cost of purchasing the actual part to fix the issue. But, if you can do it yourself, you may be able to replace and install the new part to fix your fridge. Save money by only paying to purchase the part, then install it yourself.
8. Outdoor Patio
Refresh your patio without bringing people in to do it for you. You could power wash your patio and save even more because it gives that clean finish. If you don't own a power washer, you can simply hire one for less than having to purchase one.
You may be looking to install a concrete patio if you don't have one using concrete. Concrete is an ideal outdoor material, and it does well in all weather. Some people stain their concrete and then cover it with a finishing sealant. You could choose concrete for your new patio since it is also very affordable and long-lasting
9. Basement Finishing
The basement is always a great addition to any home. You can often use this extra storage space or convert it into another living space. You can go ahead and explore your inner designer self and transform your basement into an additional living area. It might be your hobby space, a flatlet for a teenager, an office, or your chillout zone.
Check that you secure any water issues. You need to complete a basement waterproof check to ensure that no water is seeping in, as this can lead to many additional problems like rising dampness, moss growth, and inefficient insulation, as the place would be cold all the time. After ensuring that the basement is sealed, you can go ahead with the designing process, decor, painting, and whatever you need to complete it.
10. Chimney Sweeping
Taking care of your chimney is also highly important and could pose many risks if it isn't maintained. Some soot dangers with prolonged exposure in the home include an asthma attack, heart disease, and fatality. A chimney that hasn't been cleaned could cause unexpected fires in the home and reduce the air quality. Doing frequent chimney inspections can help keep you and your family safe, as well as catch any issues and prevent them from happening.
11. Roof Repair
Your roof takes the most wear and tear and has to withstand all the weather elements, strong winds, strong UV, and more. You can tackle some repairs on your own if you are a DIY expert. Sometimes you might need to replace the roof shingles that have curled or show other damage.
Speaking of roof repairs, you will need your tall ladder and continue bearing safety in mind all the time while you get onto the roof to do work. While up there, you may as well clean out the gutters and repair any that has had damage. A roofing service will be able to help you with repairs and maintenance, but if there are some things you're able to do yourself, then why not.
12. Add an Easy Backsplash
If you want to add a backsplash to your kitchen but you'd like to save, opt for adhesive tile-like material in which you can stick onto the current tile. Depending on the print and detail, this stick-on version may be a winner and is less time-consuming to install and much more affordable. The expert DIY method also includes using actual tile or mosaic and using an adhesive like tile mortar to attach real tiles or stone materials for the backsplash.
13. Save By Using Wallpaper
Wallpaper isn't exclusive to walls, and you can use it on other surfaces too. Sure, while the name wallpaper is used because walls are the main surface covered in wallpaper. You might be tired of looking at the same cabinet drawers and want something different. While not resorting to purchasing drawers again, simply stick wallpaper on it, which will change the outer appearance and create an illusion of new draws. You could go for any pattern you prefer.
If you want to do your own designed wallpaper, you can attempt drawing some unique patterns and pictures on plain wallpaper. Purchase a roll with no print on; instead, you can hand paint a print. This is a very creative and fun opportunity, and you can get the kid's help on this one too.
14. Upcycle Items in Your Home
Perhaps you have some old items that you don't want to use anymore, or that don't work for the purpose it was intended due to wear and tear and better models. Upcycle an old vintage suitcase into an armchair by adding legs and extra cushioning for the upholstery parts. You can use an old tree stump and craft a beautiful coffee table that is unique In every way.
There are no rules to upcycling, and you can simply get creative. Some people build shelves from an old ladder or turn that old ladder into a whole bookshelf. Use old glass containers for vases, repurpose an old window shutter, and turn it into a cabinet. When it comes to upscaling, you can let your imagination and creativity flow.
15. Build Your Own Fire Pit
Use the leftover concrete you might have after the paving installation and build a firepit with it. You can also add seating areas near the fire pit for a cozy winter night gathering to share stories, enjoy smores, and more. If you want to use concrete as the seating area, you can do so, then add wood as a seat cover so your guests don't sit directly on the concrete.
Save Money While Making Your Home Great
Having the skills and talents to do your own repairs, interior design, fixes, and more is truly amazing. You don't have to spend money having to keep hiring other people to come in and get the job done. Saving money is probably one of the biggest perks of being a DIY expert. Some folks even tackle more work by turning their DIY skills into a money-generating effort. Not to mention, it will keep you busy, hence not giving you a chance to become bored.
Are you a self-proclaimed DIY expert enjoying what you do? Have you done any of these DIY jobs before, or are you planning to do so in the near future? Hopefully this guide has been just what you needed for some great inspiration!