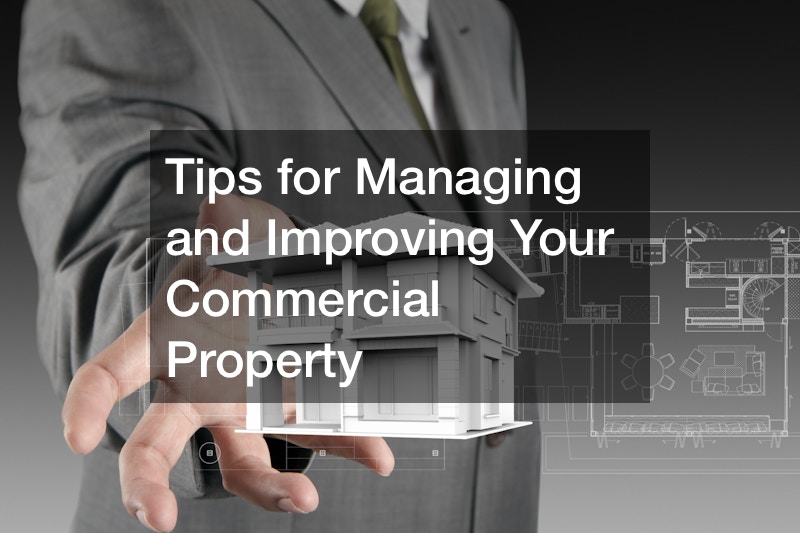 Commercial property is a good investment with good returns. However, commercial property management is different from residential property. Managing a commercial property will involve operational oversight of the retail spaces, business parks, storage units, etc. You'll also have to deal with longer leases, large maintenance projects, and other unique challenges with commercial properties. Below are tips you should apply to manage and improve your commercial property effectively.
Understand Your Goals and Objectives
The first thing you should do when venturing into real estate as a commercial property owner is to set goals and objectives. The main objective of all landlords is to have their buildings fully occupied and offer their tenants quality and comfortable spaces. As such, plan on how to achieve all these goals.
First, have a great team to help you run the management processes. Although you will use digital methods, you need some people to operate the systems. Secondly, understand how you'll find and attract tenants to your property. Additionally, plan for unexpected things like emergency repairs. Finally, set a goal to network with other industry professionals and learn new ideas for running your business.
Invest in Commercial Property Management Software
In commercial property, you'll spend more time managing many people. That's why you'll understand the benefits of working smarter rather than harder. Commercial property management software comes into play for easy property management. This is because you cannot keep all the records in your mind.
Managing offices, industrial centers, and retail properties involve handling delicate information, regulations, and transaction details. That's why you need cloud-based software to ease the monitoring and data tracking. For instance, if there is a need for repair, the tenants can quickly alert you.
The modern world utilizes electronic payment methods rather than traditional cheque deposits. This software makes the process more convenient. It also saves time because you don't have to meet everyone personally to execute operations. Lastly, you can do better reporting and have better support and customer loyalty.
Automating processes within the property comes with a wide range of benefits. Examples of the software you can use for these purposes are EHS compliance software. It will ease your property's overwhelming task of health and safety management. You'll easily mitigate the regulatory penalties and fines as well as save money.
Have a Proactive Property Maintenance Plan
To improve your commercial property, you must have a proactive management plan. Commercial property has many people, tenants, and visitors who access different areas. As such, there will be basic and emergency maintenance requests. Preventative maintenance will save you the time and money you'd spend on reactive maintenance.
So, consider all aspects of commercial property maintenance by partnering with a concrete contractor, plumbers, electrical engineers, and other professionals. For instance, you'll always have plumbing needs because the property has different tenants. Some operate factories that have regular disposal of unclean water and chemicals. That said, you'll need drain pipe maintenance services.
On the other hand, the use of washrooms by the public may require more maintenance of the toilets, sewer lines, and clean water piping. Electrical systems also need regular maintenance. The HVAC systems, power outlets, ceiling fans, and security lighting also need maintenance.
Landscaping is very demanding because you need to have plants trimmed and watered. And if you run a school within your property, you must ensure the playgrounds are well maintained by mowing and trimming fences. Pest control is also a constituent of landscaping. Commercial landscape maintenance requires more budget than residential due to damages as a result of human activities.
Your commercial property also needs good infrastructure for easy business operations. Most wholesale businesses, restaurants, and offices will have trucks delivering various products. As such, the pavement may be exposed to fast wearing. You must have a strategic plan to keep the area in good condition.
A good maintenance plan will help you maintain the property value. A higher value means you'll command higher rental fees as you stay above your competitors. Secondly, you'll prevent injuries and damage to private property like cars. Third, your commercial property will look nice to attract customers to the tenants' businesses.
Keep Your Tenants Satisfied
Losing tenants in your commercial property will be inevitable. Businesses will outgrow the spaces, operations will move to different locations, and some tenants will just not feel happy about their spaces as usual with humans. But you can apply some mechanisms to minimize the latter. After all, keeping tenants is easier than acquiring one because the new tenants come with different demands.
The first thing you should do is to establish a good connection with your tenants. Communicating with the tenants regularly will make you understand what makes them happy. For instance, once the tenant requests to rent a space, you can contact them to better understand their tenant finish preference. This will enable you to design the interior as per their needs.
The second step is to take the tenants' needs to your heart. For instance, if a business has outgrown the space, you can help the tenant decide how they can store their stock. You can agree to pay for the demolition services and tear a wall to join their space to the next space if unoccupied. This can retain the tenants for an extended time, and you'll retain your income.
If your tenant is a BDDS office, you'd want to learn their needs and customize the office and staircases to suit the needs of their regular visitors. For instance, you can install a building lift for people with developmental disabilities or have a special security team to guide them around the property. On the other hand, a restaurant may need an extra outdoor space for their customers. In this case, you can use a parking section to build an outdoor patio.
A construction consultant will help you create a safe and positive environment for your tenants. Do upgrades and abide by the regular preventative upgrades to keep your property on top. The most crucial upgrades for the tenants are those that promote efficiency, like the electrical and plumbing fixtures.
Ensure the Property is Suited for Its Use
The most common challenge for commercial property owners is customizing their properties to suit the industry. A great example is the crane company, which always operates heavy machines. If leasing your property to this company, you must ensure enough space to store their machines. Further, your pavement must be well constructed to withstand the heavy weight exerted by their machines.
On the other hand, if you have a manufacturing warehouse, set up an area for dumpsters and disposal systems. Having a waste management plan for these companies will ease your management job. After all, these companies pay a higher rental fee because they take up large spaces. So, by retaining them, you retain your higher income.
As that's the case, you must determine your industry before venturing into real estate. This will help you design your commercial property building that will suit your tenant's needs. And after the completion, you'll regularly spend very little on upgrades and maintenance.
Prepare for Future Inflation and Costs
The modern market is highly fluctuating, and you must keep your commercial property at a higher value. When there are inflations, tenants vacate to find better areas for their business. The best step you can take is to improve other services to make the usage and occupation of your property enjoyable.
The most common thing that increases a property value is the parking area. A smart parking facility will ease the visiting customers' work and save time finding a parking space. You'll also minimize the call to the clients by the management related to parking issues.
You also need to upgrade the utilities and IT services. Things like free Wi-Fi and printing services can attract more clients. You may also add some electric charging spots for electric car owners within the property and set up reasonable charging fees.
Prioritize Safety
Many factors determine the longevity of your business, and one of them is the tenants safety. As such, you must have a good security system on your commercial property. Safety is the first thing that tenants will look at when renewing their contracts or leases. That said, check on your roofing to avoid leakages that can damage tenants' belongings.
Secondly, ensure your business fencing is in good condition to discourage thieves and burglars from accessing the property. Mostly, thieves target business buildings at night to steal stocks and appliances used in those particular businesses. For example, they can steal gas cookers, fridges, and microwaves from the restaurant.
The other thing you must put into priority is the security team. A security check at the entrance will give tenants peace of mind whenever a customer enters their room. Most robbers can target a business during the peak seasons to steal money. Terrorists and other people with ill intent can also access the business room to damage their property.
A good security workforce management software will help you identify the best security company and retain the right officer. Additionally, add CCTV cameras within the building to monitor every movement of the visitors. This can help the security team identify any person with ill intent earlier.
Diversify Your Tenant Mix
Several investors have commercial properties with a mix of tenants operating various businesses. For instance, most commercial buildings around towns and cities have restaurants, hotels, retail shops, offices, and cafes. Ensure that you have a diverse mix of tenants on the property. This will ensure that they don't eat one another's market share.
For example, if you rent out a space to a salon and massage spa business, avoid giving space to any business offering similar services. If you have a restaurant on the property, avoid renting out spaces to other restaurants because it can lead to unhealthy competition. If businesses eat each other's market share, one powerful business may try to manipulate the market.
Unfortunately, not everyone will prefer to hire antitrust attorneys because the process may be long and time-wasting. Instead, tenants will vacate to find a better place. To avoid such issues, choose the tenant mix carefully and also act as a mediator between tenants' conflicts. You can set boundaries within the premises for each business operation to ensure no conflict.
Always Analyze the Market Trends
As a property owner, ensure you are up to date with the market trends around your commercial property. Understand the rental increment policy applied by other commercial property owners in the area. This will help you to make adjustments or apply the same policy to retain your tenants. Residential properties can also affect commercial properties.
If the neighboring residential properties are vacant, the business may lose income. For instance, if a retail business selling food items on your property loses neighborhood customers, the income will significantly decrease. This can lead to relocation. Other developments happening within the area can also affect your property income.
For example, if many commercial properties are built in your area, there will be low demand for rental spaces. This will reduce your rental income because you'll have to reduce the rates for each space. Keeping up with the trends can help you act before things worsen. For example, if retail stores are closing down, you can demolish the walls and establish a larger space for a supermarket.
Manage Your Finances Effectively
Investing in real estate means you'll earn money and also spend. As such, you must manage the finances associated with your commercial property well. Good management software can help you track down every transaction within the business. Ideally, set a monthly budget for maintenance and track which areas need more finance allocations than others.
When hiring workers, partner with the local industrial construction union to ensure you don't hire professionals who will overcharge you. You'll understand the rates and requirements to ensure no worker sues you for rights violations. Ensure you pay the taxes and have a good credit score to establish a good relationship with your bank. A good credit score guarantees you a loan in an emergency.
Good management and improving your commercial property will retain its value. However, note that market trends change, which can bring benefits or challenges. Always keep up with the trends to determine the steps to take for your business growth. Develop a habit of establishing good relationships with every tenant because each person has unique needs.