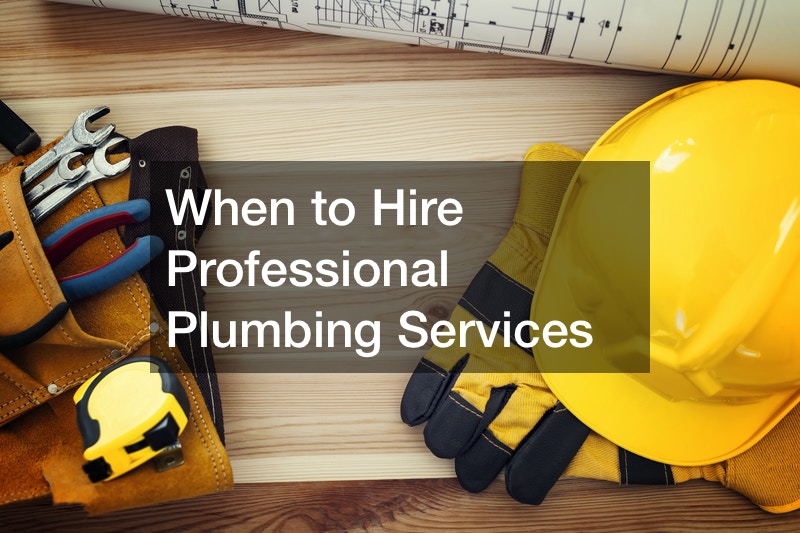 Whether you are looking for professional, affordable, or emergency plumbing services, all are available close to your doorstep. By getting in touch with service providers online, you can be sure to get the best plumbing services at an affordable price. Affordable service providers never compromise on their quality of work, since they ensure that customer satisfaction is their prime goal.
When it comes to plumbing emergencies and problems, you should do your best to avoid such events. But, if something does happen and you cannot find a way to fix it – don't panic! While fixing a plumbing issue at home may be tempting, it is always advisable to call a professional. A professional plumber will make sure to fix your plumbing problem in the most efficient way possible and help increase the lifespan of your pipes.
Here are a few services that require a plumbing professional.
Drainage and Water Supply Services
Plumbers are trained and experienced professionals in a range of plumbings. They also help inspect and install water supply pipes in homes, offices, and public buildings. From plumbing for bathrooms to hot water system installation to rainwater tank connections, your plumber can help with any of these situations.
Local plumbing companies can offer all the help you need with your water supply and hot water systems, including installation and inspection. They can also help connect rainwater tanks to garden irrigation systems and toilets.
Plumbers are typically called on to fix problems with the drainage system, including leaks and clogs.A waterproofing contractor must determine what caused the problem and then use appropriate equipment to fix the problem to resolve these problems. When drain clogs threaten to cause water damage and are difficult for homeowners to remove, plumbers have the tools and skills necessary to clear drainage issues. Drains in sinks, showers, bathtubs, and toilets may become clogged with hair, food scraps, minerals, and other debris.
Gas Fitting and Plumbing Services
A simple clog in your kitchen sink can quickly turn into an expensive plumbing repair. The parts and supplies you need to fix the problem can be found at most hardware stores, but it is best to leave this type of repair up to a licensed and trained professional.
You've got a gas leak, but you have no idea how to fix it. Is it even your job? It is vital for you that you call a licensed plumber for gas plumbing services. With extensive training and knowledge, they can help with most issues related to gas. This includes inspections, installation, and maintenance of water heater units and gas appliances, including ovens, fireplaces, and cooktops. They may even be able to help you install a gas line or connect to an existing system if needed.
Licensed plumbing professionals are trained to handle a range of gas-related issues and installations. A lot of people don't realize that they can see their local plumber when they need help with the installation or maintenance of their LPG line, the installation or maintenance of their gas cooktops, fireplaces, and ovens, or even if they have an issue with a gas fitting in their home.
Gasfitters (plumbers) specialize in gas fittings and gas plumbing. A licensed plumber can inspect, install and maintain various gas systems in your home. They can also repair or replace gas equipment such as water heaters, ovens, and stoves. Since gas pipes require special tools and skills to work with, you must hire the services of a licensed plumber who has undergone special training.
Toilet Repairs
Toilets repairs are one of the hardest things to get right when it comes to plumbing and fixing them. Plumbers know this, but they learn how to do it anyway. Plumbers fix toilets with a combination of knowledge, tools, and toilet repair kits.
It's relatively easy for local plumbing companies to fix a toilet when you have the right tools and parts on hand. Most plumbers will start by working on the water lines, ensuring all lines are connected properly, then checking for leaks. Once the procedure is clear of leaks and visible damage, they'll move on to replacing any hardware inside the tank.
There are three main things that a plumber fixes when it comes to troubleshooting toilets: the fill valve, the flapper, and the flush valve. A plumber should be able to determine which of these three pieces is causing your toilet not to empty completely. All of these parts can be fixed easily by a plumber, and instead of paying hundreds of dollars to replace them, you can pay a fraction of the cost.
Plumbers get rid of clogged toilets. To plunge a toilet, they push a plunger down into the water in the bowl. The force pushes the clog through the pipes to clear the way. Alternatively, a plumbing contractor will sometimes use a snake, which is a long flexible tube with a special coil inside for removing blockages or snaking out debris in drains and sewers.
Garbage Disposal Repair and Replacement
A plumber may refer to a plumbing system expert who is an expert in installing, repairing, and servicing plumbing systems. In some cases, the plumbers possess more than one specialization, such as for drains, water lines, replacing bathtubs and showers, etc.
Therefore, the new methods should be used for the task of garbage disposal repair and replacement issues because of their durability to get rid of the tasks effectively.
A plumber visits your home and gives you a brief explanation of what is wrong with your garbage disposal. The plumber replaces disposal parts where necessary by unscrewing the dishwasher drainpipe and removing the garbage disposal from the sink.
The plumber assures you there is no risk of electrical shock when disposing of old garbage disposal. The plumber shows you how to use garbage disposal switches for proper operation, explains new garbage disposals, some of their features, and quotes on price.
Gas Piping
Gas piping is the conduit used to transport gas from one place to another. It is important that a competent person should do gas piping, and it's safer if the plumber himself does it if he wants it to be done in a legal way; otherwise, it should be done by a certified union or an experienced and licensed plumber.
In the construction industry, plumbers need to be equipped with all types of heavy machinery. However, not all the equipment can be carried in trucks and trailers. Thus, plumbers usually carry out gas piping using handbags. Gas piping can be used for both gas and water supply lines in homes. In fact, most plumbers consider gas piping installation to be faster as it involves less work and material costs.
They carry out gas piping for modern as well as traditional applications. Whether you add a new appliance, convert it to natural gas, or replace a worn-out appliance, your plumber will know the correct techniques and equipment to complete the job correctly.
Angle Stop Repair
So how do plumbers carry out angle stop repairs? Many techniques can be utilized to complete the job properly. To begin with, it is crucial for you to understand what a PEX angle stop is. The plumbing fixture typically has two cold water pipes and one hot water supply.
Since angle stop repair is a major problem for the plumbers to fix, you should look for affordable plumbing services who are familiar with angle stop repair. Their work must be trustworthy and satisfactory in terms of quality and time spent.
Plumbing Fixes You Can Do Yourself
Some plumbing problems don't require a call for a plumber. Get busy on small plumbing jobs with the do-it-yourself Plumbing Repairs You Can Do Yourself. Whether you're looking for instructions on repairing a dripping faucet or replacing a toilet, this guide makes it easy to tackle your plumbing projects on your own. Here is a list of things you can do yourself without using a professional plumber.
Repair a Kitchen Faucet
A kitchen faucet is one of the most used appliances in most households, which means it inevitably sees its fair share of wear and tear. Ideally, faucets should be serviced periodically by a professional to ensure they are functioning properly, but if you are considering replacing or repairing one on your own, then you can quickly fix it.
Most faucets are very easy to fix – your biggest concern will be limiting the water flow when you open it up. If your kitchen faucet leaks, there may be a few reasons for this. A loose faucet coupling can sometimes cause water to leak from the handle. It's easy to repair a leaking handle.
Stop Leaks in Joints
The biggest cause of leaks in joints is excess grout. If you want to repair leaks yourself, you will need to remove grout below the waterline, clean it thoroughly, and re-grout with a non-sanded grout or scratch coat to avoid channels in the mortar.
Leakage in your joints is not just bad for your home, but it's also a hassle and can lead to other problems later on. Although fixing a leak can seem daunting, it's fairly straightforward.
It's pretty easy to repair leaks in older toilets with rubber gaskets in the joints. Often it's just a matter of replacing those old, dried-out rubber gaskets that allow water to seep through.
 Stop a Running Toilet
To stop running toilets, you first need to identify the cause of the problem.
Running toilets are usually the result of one of two things. Either the float arm is stuck, or a blockage reduces the amount of water that can enter the tank. If your running toilet suddenly starts making louder sounds, this is a good sign that the floating arm has become stuck. It's likely to be caused by sediment building up in the line between the tank and bowl, which will require the use of a special tool to break it up and flush it away.
You need to either shut off the water going into the toilet tank or fix the leak if the tank is leaking. But the easiest way to stop a running toilet is to use a toilet plunger system. This consists of a plunger, a holding tank, a hose, and a handle. First, you need to identify the source of problems, such as a loose float ball, a worn-out flapper valve at the bottom of the tank, or a broken flush mechanism.
Unclog a Bathtub Drain Without Chemicals
It's common to find bathtub clogs in older homes where the drain lines are connected directly to the main drain. When you take out the P-trap, you might find hair, soap scum, and other deposits in the line that extends from the outlet pipe of the drain up to the floor.
Fortunately, natural ingredients can help loosen bathroom drains and eliminate odors. One low-cost ingredient that you already have in your pantry is baking soda. Sprinkle it down the drain once a month, then pour hot water over it. It will not only help your drain stay free of clogs but will also help eliminate odor.
Fix a Leaking Water Heater
If you have a leaky water heater, it means that there is a problem with the water tank itself or some pipes connected to it. Lots of different problems can cause this. To fix the leak, you have to know the exact leakage point and then determine what is causing it in the first place.
There are many reasons why a water heater can leak. A broken or torn water heater hose is an easy fix. By replacing the hose, you can save money on the cost of a new water heater itself. The biggest concern is safety. After all, dripping water can cause a fire hazard and damage your floors or carpet.
Water heater repair is one of the easiest things you can do yourself. No special skill is required, and most tools are inexpensive and easy to locate.
Conclusion
Hiring a plumber contractor is convenient when you need help with a time-sensitive repair. But keep in mind that you don't always need to hire a plumber for every project—some plumbing projects are DIY. A few basic plumbing tools and household items can help you tackle these plumbing tasks!
Hire a plumber for those unexpected big projects around your home, but be sure to knock out these simple household plumbing fixes on your own.