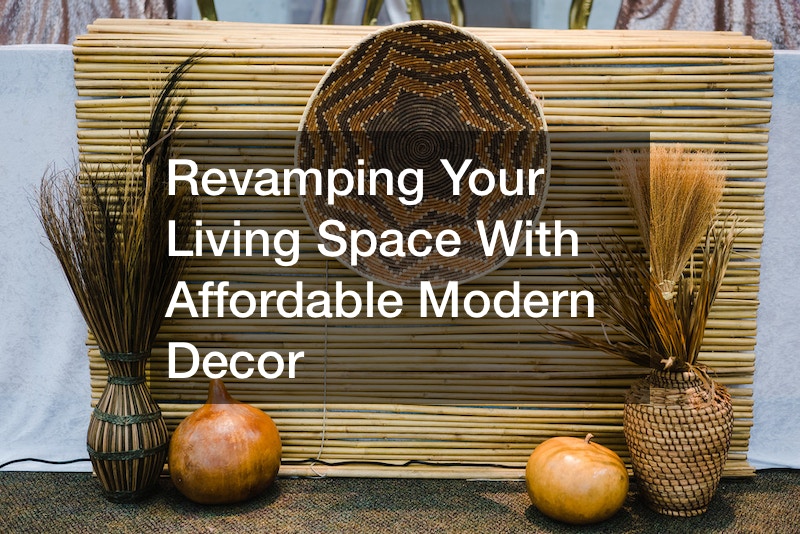 At some point, you may have looked around your home and felt uninspired or unsatisfied by your home's design. The wall color you previously adored may now feel dreary or antiquated, or perhaps you attempted a few fads that don't look as good as they once did. Regardless of your motives, it's almost certain you'll want to upgrade your home with fresh, affordable modern decor at some point.
Our financial resources aren't often as great as our desire for change. Fortunately, you can make many improvements that will look great, are inexpensive, and take a short time to implement. If you want to fall in love with your house again, consider including the following upgrades in your revamping project.
1. Renovating Outdated Spaces
You can refresh your living area by creating open spaces to add a decorative touch and give the impression that the space is larger than it is. You could also use adjustable lighting to highlight particular regions of the house. Another excellent affordable modern decor addition to your remodeling project is indoor foliage. When you come home after a hectic day, indoor plants will make you feel calm and re-energized. Consider placing a bright plant close to the door and adding decorative pots in the corners of your rooms. You should also think about installing large windows to bring more light into your house.
Your home's bathrooms are its most private space. You can take some time to unwind and care for yourself here. Creating a sanctuary in your bathroom will improve your mood by making your time alone more relaxing. Consider adding a standalone bathtub, glass shower door, and a few plants.
2. Picking Interior Aesthetics
Before you settle on interior decoration for your home, start by choosing a personal aesthetic preference. Make a list of your preferred decor pieces and styles. Next, select a color palette with these designs in mind. There are various factors to take into account when choosing a color. Try to pick shades with a calming effect. They should match the other furniture in your room and make you feel joyful.
From furnishings, decorations, and other items, stick to a single theme across the entire space. To extend your theme search, consider your space's size, shape, and other dimensions. Ensure the theme blends rather than contrasts with the rest of your home. You may introduce your personal touch by using accent items, decorations, or a custom countertop design. Additionally, you can combine several styles to create distinctive, affordable modern decor.
3. Unifying Space
We frequently invest our time and money in furnishing our rooms with beds, couches, tables, and chairs. Still, a home without unifying design elements might appear unfinished or unpleasant. Repeating colors and patterns is one of the simplest and most effective ways of bringing a sense of harmony to your design. Paint your walls with color from one of your favorite art pieces, or use complementary colors for your carpets, hardwood flooring, cushions, and even book covers.
Additionally, patterns or colors from the same family which don't perfectly match might work wonders in bringing your space together. Decorate with items that share the same vibe or style. Even if pieces may not be the same color or from a similar era, they might have similar styles or aesthetics that can unify your house. Such decorative items are usually the ideal covert unifiers since they impart a sense of wholeness without being overwhelming.
4. Updating What's in the Walls
Your contractor will urge you to do a current condition evaluation, which examines the state of your heating, plumbing fixtures, and radiators while renovating your property. If a chartered surveyor suspects an infestation, moisture, or drainage problem, they will recommend more analysis. This information will help you decide on the materials or fittings you need for renovations and repairs. Older homes often have back boilers installed behind fireplaces. Your engineer will remove the system and the pipes, and a new location, such as the kitchen, will be fitted with a conventional or a modern combi boiler.
If the present location doesn't match health and safety requirements, or the plumbing fixtures are in a separate room, your plumber could advise transferring your boiler. If it's ten years old or older, you may need to replace the model and do some piping and repiping work. The plumbing portion of a home renovation project may not always be the most exciting, but it can allow you to add an en suite bathroom, move your kitchen, or take advantage of underfloor heating on chilly winter mornings.
5. Incorporating Fresh Colors
When remodeling a home, paint is an underrated tool. Most interior designers advise repainting your home as an initial upgrade step, because you'll need more than just color to make your house come alive. The paint may emphasize a particular region inside your house, enhance a particular space and make it appear larger, or create a peaceful atmosphere that makes it calming to be indoors.
In addition to painting the walls, some of the antique furniture may benefit from a paint job, and areas like the ceiling will look great with a new coat. Avoid sticking to specific solid paint colors and experiment with different gradients, patterns, and textures to keep things fresh. Choose your favorite color and start small, maybe with an entrance, powder room, or closet space. You can also incorporate dark colors to provide character, depth, and an unexpectedly calm vibe to a space. Choose colors that work well together. An area rug is a simple way of adding more color if you don't want to change the wallpaper or paint.
6. Tackling the Exterior
People will think your building's interior mirrors are outside. Making a good first impression is your goal while renovating the exterior, and there are many areas you might choose to concentrate on when starting your exterior home renovation project. Understanding the differences between hardscaping and softscaping when designing outdoor areas is a great place to start.
Landscape design that uses only inanimate objects such as seats, tone fences, fountains, and walls is called hardscaping. Softscaping describes the landscaping's live elements, such as trees, grass, bushes, and flowers. Hardscaping and softscaping should work in harmony to maximize property value and curb appeal. They make a good first impression on visitors to your property and unify the building's appearance. Properly executed exterior property renovations increase the market value of your entire home.
You can also choose to do siding installation on your windows. These sturdy, weatherproof panels shield your windows from the elements. Adding extra insulation against heat and cold keeps your windows in good shape, saves your heating and cooling expenses, and increases energy efficiency. By making this investment, you'll get a high-quality home renovation job with both aesthetic appeal and practical advantages. You will also be moving in the right direction in terms of a more sustainable lifestyle.
7. Creating Entertainment Spaces
Making provision for entertainment spaces is worth considering when revamping your living space. The deck offers a great place for entertaining guests. Before you can start decorating it with affordable modern decor, check if it needs repairs. If it has faults, have them addressed by a professional deck repair service.
Modern outdoor furniture has evolved beyond the standard wicker chairs and tables with beveled glass. The outdoor furniture includes a variety of seating options, such as futons and modern seat cushions. Spend some time looking around for furniture that complements the design of your deck while still looking beautiful. This is also a wonderful chance to add a distinct style and taste to the room; so, let your imagination run wild.
With pillows and other trinkets, you can complete the look of your new outdoor furniture by giving it a more upscale feel. To dress up your new entertainment space, add outdoor rugs, lights, and pillows. You can also create a garden hideaway by hiring a specialist landscaping business or simply adding plants to the area to give it a more stylish appearance. Consider installing an outside sound system if you intend to host large gatherings or parties to keep the music playing and the party grooving.
Consider adding a functional kitchen or grill that allows you to prepare a complete meal on your deck. Doing this means you won't have to go back into the house every time you want to get food and other necessities. You can prepare food, cook it, and serve it while relaxing on your deck if you have an outdoor kitchen at your disposal.
8. Expand Existing Space
Many recently built homes have a standard open concrete patio in the backyard, which is often big enough for a few seats, a small grill, and a few plants. Homeowners who make use of their outdoor living spaces find that the average stone patios are simply too tiny for partying or any type of genuine enjoyment. Extending your patio solves this problem. However, concrete pouring can be a bit pricey and often needs a permit, which necessitates hiring a contractor and raises the project's cost into the thousands. One can use pavers to expand the concrete patio as an alternative to pouring more concrete. After expanding the existing space, resurfacing a patio is a fantastic way of combining the old with the new.
9. Refreshing the Walk
There are different approaches you can use to refresh your walkways or driveways. Be it plain or decorative concrete, dirt and grime can accumulate over time. As a first step, clean the concrete on your walks to have a better idea of what you're working with. Sealing a concrete sidewalk enhances its appearance while protecting it from weather damage and stains. Some sealers can be tinted to lend a subtle trace of color. Sealers are available in satin, matte, and high gloss finishes.
A quick and inexpensive solution to refresh your walkway is to paint the concrete. However, choose the appropriate paint and apply it to a dry, clean surface. The rich hue of stained concrete can also significantly increase your home's curb appeal. Consider concrete driveway resurfacing to add a new layer on top of your concrete. The new layer should be textured, stamped, or tinted; your choice.
10. Pulling It All Together
Use your garden landscaping to pull it all together. When you visit the garden center, think about buying at least three of the same plant rather than just one. You can pull your landscape together by using the same 'anchor' plant throughout. To create a sense of harmony and flow across your garden landscape, use the same hue throughout. By sprinkling a few accents of the same color or the same plant, your landscape will seem more cohesive and well-designed.
A focus point or sequence of focal points is another key component of any successful garden design, and it's a simple idea to implement. You can use affordable modern decor, a group of plants, a magnificent tree, or a sculpture as your focal point. Also, consider using masses or clusters of plants to unify a landscape design. One little plant won't have an impact when designing a full landscape. However, if you arrange the same plant in a mass or group of three, five, or even seven, your landscape will truly sparkle.
Think of your yard as an additional room in your home. The landscape should have distinct 'rooms,' much like a home does, and you can do this by using your resources wisely. Don't forget to consider how you'll link the spaces. Think about how visitors will navigate your yard's different zones. To encourage exploration in your yard, and movement, create openings.
There are several alternatives one can use to modernize a home without much hassle. All these minor improvements significantly contribute to revamping your home and enhancing an overall sense of well-being. Remodeling your home doesn't have to be expensive. If the fundamental framework is sound, minor, aesthetic adjustments like interior painting, replacing furniture and fixtures, and adding affordable modern decor can completely transform a space without going overboard on a tight budget.