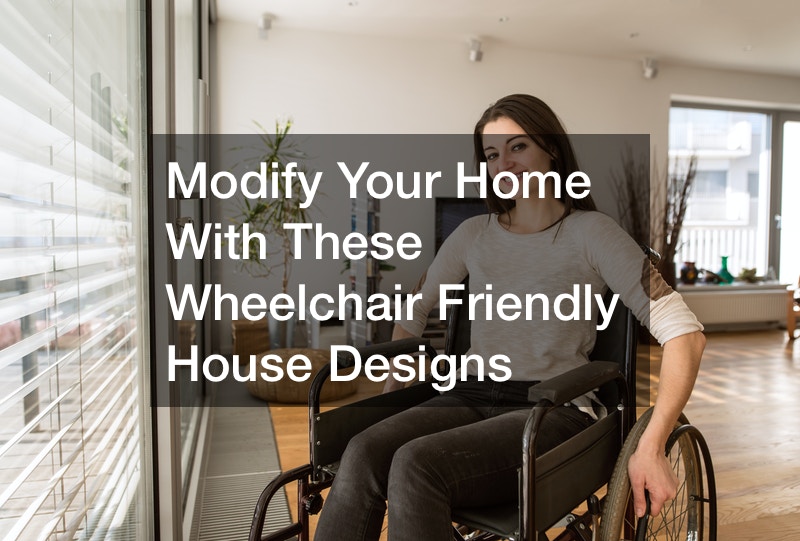 No individual ever anticipates the need for a home that is wheelchair friendly under typical circumstances. Occurrences such as falls, injuries, accidents, and illness may render a family member incapable of typical mobility and in dire need of a wheelchair. Even though these changes are never planned for, it is essential to employ wheelchair friendly house designs to allow the injured or disabled individual to adapt back to their day-to-day life easily. It may be necessary to conduct these changes to particular home sections or conduct extensive renovations in the entire house.
Some areas to consider when creating wheelchair friendly house designs include the home interior, which covers accessibility in all the rooms, the home exterior including the entrance, the yards, driveways, and decks or porches, re-modification of the home furniture, a change of the lighting, and a retouch of the flooring. Here is in-depth coverage of the specific areas you will need to modify to implement wheelchair friendly house designs in your home.
Start With the Home's Entryways
When modifying a home with wheelchair friendly house designs, the first consideration should be the house's entryways. The entrance should be modified with designs that allow the wheelchair user to enter and leave easily. Consider using ramps, as they are a good way to tackle issues with elevation when it comes to wheelchair use. You can either use the free-standing wheelchair ramps or the threshold ramps.
The free-standing wheelchair ramps are expensive to construct, though they are the most durable. Picking them as an option would mean seeking financial assistance from a private money lender for either temporary or permanent designs. The threshold ramps, on the other hand, are more useful in cases where you need barriers. Consider having a portable threshold ramp in cases where the wheelchair user is traveling.
Install Security Cameras With Touch-Free Entry Options
While wheelchair users may be self-reliant in carrying out routine tasks, it is always good to have security cameras installed inside the house for monitoring cases. Some cameras come with touch-free entry options into the different sections of the house. Having these cameras installed in the house allows for ease of movement for the user since their faces can be recognized and the doors can automatically open to give them access.
Consider contracting the services of a video surveillance specialist to do an installation for you. Some touch-free security cameras are integrated with motion detectors, voice control features, personalized alerts, one-touch calling features, and a Google Assistant. These features help the wheelchair user adapt easily and continue with their daily lives with ease.
Ensure Flooring Is Flat and Catch-Free
Several options are available to pick from when considering the flooring of wheelchair friendly house designs. The floor of the home should be easy to maintain and maneuver and be slip-resistant. Consider having vinyl flooring with either sheets or tile options, as it provides versatility, affordability, slip resistance, and easy installation.
The other flooring options available for wheelchair friendly house designs include carpeting and ceramic tiles. The carpeting option allows ease of movement for wheelchair users, especially if the padding is not excessively thick. Consider using a carpeting option that is less than 1/2 inch thick. The ceramic tile flooring option is relatively cheap, easy to maintain, and slip-resistant. The larger ceramic tiles have less grout, which allows them to offer a flat and smooth surface.
Consider Residential Elevator Installation
Most of the traditional house designs only offer stairways as the means to access the upper floors of a particular house. If you are considering wheelchair friendly house designs, you will need several access points that do not use stairs. One of the best ways to resolve this problem is contracting a residential elevator company to construct an elevator in your house. In multi-level houses, it is crucial to have lifts installed to allow accessibility for wheelchair users.
Elevator installation companies offer vertical platform lifts, which are also known as wheelchair lifts, hybrid vertical platform lifts, and residential elevators for multi-story homes. If your home is a single-level home, the vertical platform lift would offer excellent service to wheelchair users and give them the level of independence they desire.
Find Wheelchair Friendly Furniture For the Home Office
Wheelchair friendly house designs offer modified furniture for the home office to allow for comfort of use, ease of mobility, and safety. The home office should have chairs that have enhanced ergonomic features and adjustable office desks that employ hand cranks or electronic cranks. You can invest in chairs that come with a lumbar pillow, adjustable headrests, and tilts to allow for more relaxing postures.
The wheelchair-friendly desks come with no crossbars underneath, which helps increase the user's comfort and access options. An office equipment store near you may have desk options that come with motors that operate electrically, allowing for height adjustments through touch mechanisms.
Consider Furniture Arrangement In Common Areas
The arrangement of furniture has several considerations when implementing wheelchair friendly house designs. For a start, you should avoid any fragile glass pieces near the pathways of the wheelchair user. Consider changing the layout of your house so as to have the low coffee tables moved away from the center of the house. Ensure that there is a lot more free space between the furniture, at least more than 32 inches in width. The furniture arrangement should also factor in a turning radius of about five feet. If the wheelchair is bigger, increase this measurement to six feet to allow easy 360-degree turns.
Consider the Heights of Countertops and Tables (And Adjustable Options!)
The countertops and table heights should consider the knee space of the wheelchair user. You need to lower the counters' heights from the typical 36 inches to a range of between 28 to 34 inches for ease of use. While making these changes to the countertop, consider the number of times the wheelchair user needs them either for dental care, washing, or simple chores. If the frequency is not that much, consider lowering only a portion of great importance to the user. Consider a knee space of 27 inches in height and eight to 11 inches in depth at minimum. Tables in a house are usually lower in height. You can employ the use of small blocks of wood for furniture coasters or purchase taller tables.
Make Adjustments For At-Home Hobbies
When conducting modifications, one of the primary objectives is to reduce the percentage of disruption to the wheelchair user's life. Since having fun and enjoying life is important, it is key to make simple adjustments to accommodate at-home hobbies. Create a working space for knitting or crocheting, making jewelry, paper-crafting, and playing video games, among other hobbies. Perhaps your family is interested in aging your own whiskey instead of purchasing it. If that's the case, engage residential electrical services so your garage can be the ideal whiskey-making space.
Make Room for At-Home Medical Appointments
Wheelchair users may need medical attention and physical therapy, which will have to be administered at home to increase mobility and induce quick recovery. Rehabilitation centers are most often the best places to conduct the therapy sessions, but if possible, create an environment to allow for the sessions at home. You can create room in the garage for a wheelchair exerciser machine, workout kit, or fitness machine for physical therapy.
Install Hand Rails and Step-In Showers In the Bathrooms
The bathrooms are a delicate place, especially for an individual who uses a wheelchair, and there are ways in which you can avoid the need for an attorney due to injuries. Most bathrooms are slippery, and due to the reduced mobility of wheelchair users, you need to consider installing handrails to increase their stability. Consider handrails with enhanced grip modifications in heights that are reachable by the users to avoid slips and falls.
Step-in showers are much easier to get into and out of compared to the traditional bathtubs and showers. The wheelchair users do not have to step over any barrier since the step-in showers have floors at the same level as the bathroom floor. It can also be modeled with a bath bench with free-standing or wall-mounted and non-slip floor mats for safety and ease of use.
Install a Toilet Riser
Bathrooms need to be easy to access. One of the best ways to integrate wheelchair friendly house designs into your home is by installing a toilet riser for the users. Since most wheelchair users may have a problem with standing, bending over, or even sitting down, the risers make it easy for them to use the toilets with ease and comfort.
Consider having your toilet seat height reach between 17 to 19 inches, making it much more comfortable and easy to transfer out of and into the wheelchair. You can attain these heights by having a toilet with an elevated base or installing toilet seats that are thicker to increase their height. A bidet or grab bars on either side of the toilet can also increase the toilet's usability for a wheelchair user.
Ensure the Storage Spaces Are Low
The storage spaces in wheelchair-friendly house designs have to be modeled in heights or spaces easily accessible by wheelchair users. Consider building cabinets and closets within reachable distances with no much strain or stretching. The drawers and shelves used in the house for storing clothes and other items should be lowered, especially for those frequently used. Those items that are rarely needed can be stored in the upper spaces and shelves.
Redo the House's Lighting
House lighting is one of the most overlooked factors when implementing wheelchair friendly house designs. The lighting in houses is not designed to cater to individuals who use wheelchairs. The glare and recessed lighting affect individuals on wheelchairs but are not an issue for other individuals in the home. You can have the wheelchair user point out the different rooms and sections in the house with this problem before fixing it, either using dimmers or anti-glare lighting options.
You can invest in bulbs with reduced glare and try lowering the bulbs' positions in the house. The position of the light switches is another issue that you have to deal with. Are they accessible, or are there counters obstructing an individual's reach? The switches' height should also be considered and lowered to levels that are accessible for wheelchair users. A lighting solution is the use of rocker switches, which are easier to manipulate. You can also invest in motion-sensitive lighting, which reduces the difficulties of reaching for the switches.
Redesign the Garages and Driveways
The wheelchair users will consistently need access to the garage and driveways. You can make it easier to move in and out of the garage and driveways to the house and back. Design a portion of the driveway that allows the wheelchair to move and turn without any restrictions. The use of asphalt or concrete is advisable since it will provide a hard surface that is flat and convenient.
Restructure the garage so that the benches are not higher than 30 inches and a depth of at most 24 inches. The dimensions allow the wheelchair user to work easily on the benches. Replace the storage of the tools to heights and locations that are easily reachable for the wheelchair user.
Constructing or modifying your home with wheelchair friendly house designs and ideas can be a lot of work if you are beginning from scratch. These are some of the notable areas you should consider making it easy for the wheelchair user to continue with their day-to-day life without any problem. You can always come up with more creative ways to implement the solutions as long as the result is satisfactory and helps attain the purpose of modification.