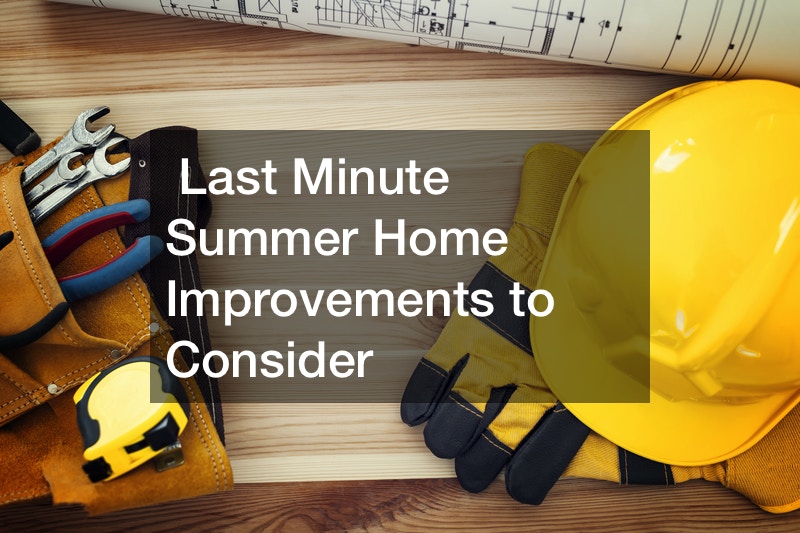 Every homeowner understands that the secret to an attractive home is constant improvement. No matter how costly a home might be, failure to regularly update it will cause unfathomable deterioration. It is not a secret that the cost involved in either building or purchasing a home is normally high. Because of this, every effort should be channeled towards making sure that this valuable possession maintains its formidability for an extended period. Therefore, home improvement should remain a top priority for every homeowner looking forward to having an exceptional experience in their homes.
Things to consider when improving your home during summer
For your home improvement project to succeed, it has to be done in a conducive environment. If there is a perfect time to initiate a home improvement exercise without having to incur unnecessary expenses, it has to be during summer. This warm period remains the perfect time for facelifting your home, since unexpected occurrences like heavy rainfall and thunderstorms are less likely to happen. Below are home improvement measures to consider during summer;
· Landscaping-A home is not complete without a proper landscape plan; before rushing into this activity, it is always advisable to seek advice from a specialist who will guide you on the best landscaping approach concerning your native climate, soil, and myriad other factors. In a typical landscaping scenario, activities like ground leveling, demarcation, planting of suitable grass, and a variety of plants go along with beautifying the home. According to landscaping experts, the best time to undertake these activities is during summer. Regular watering is recommended for young plants as you await the rainy season or winter.
· Replace your windows-Windows play a critical role in regulating the rate of insulation within your home. Summer is the perfect time to replace your old inefficient windows with modern and stylish windows designed to keep your energy bills at a minimum by preventing excessive heat loss. This is also the best time to carry out glass repair to your windows to keep you safe from other harmful elements.
· Replace your gutters-Gutters that are sagging or leaking can have a destructive impact on your roof. Failure to sort them out swiftly can lead to more costly interventions in the future. As you are planning to hire a plumbing company to address your in-house plumbing needs, it is also important to fix your gutters, since well-functioning gutters can play a huge role in ensuring that you have an adequate supply of water in and out of the house. Given the delicate nature of a gutter fixing process, it makes more sense to conduct this activity within the summer period since fewer rain and storms are expected during this period.
· Replace your roof In the unfortunate event that your roof is badly damaged, you should not hesitate to replace it during the summer. Summer allows you to amply repair your roof without having to worry about the rain. Keep in mind that a damaged roof can become the genesis of multiple problems that might compromise the quality of your house. To have your roof professionally fixed, it is advisable to check through available commercial building companies within your locality and settle for one with an outstanding reputation when it comes to quality and reliability.
· Perform maintenance on your air conditioning unit-There is no doubt that your air conditioning unit will be running a lot during summertime. Therefore, it is recommended that you contact an AC installation company to oversee the general maintenance and detection of any problems that your AC unit might be having. Ensure that you replace the air filters regularly to avoid the dangerous circulation of dust within your home. Air filters can easily be found at a hardware store, or better still, you can enquire from an air conditioning technician for an authentic referral.
· Invest in a smart thermostat-A smart thermostat is central to a well-balanced temperature within your house. Your appliance installation until you have complimented your air conditioning system with a smart thermostat gadget. One major benefit that you stand to gain from investing in a smart thermostat is that you will be saved from the trouble of having to adjust the air conditioning system on your own persistently.
· Acquire wood pallets-Summertime is normally characterized by extremely high temperatures that make life quite uncomfortable, especially inside the house. Nothing is more frustrating than being trapped in the house on a summer afternoon. To avoid such a scenario, buy wood pallets that can be used to create comfortable outdoor structures ideal for the summer period.
· Foundation and wall repair-No one doubts the devastating impact of heavy rains on the house. Besides interfering with the foundation of your house, heavy rains can cause serious cracks in your walls and risk the safety of your entire family. An unstable foundation and wall are the recipe for a life-threatening situation that can lead to irreversible changes. Summertime happens to be the perfect time for undertaking brick masonry repair and working to seal any crack that might exist in your foundation. You do not have to wait for the next rainy season to make the required adjustments. To give the repaired wall a new look, there would be no harm in hiring an exterior house painters to help with the duty of giving your home an outstanding look.
· Lighting and other electrical installations-Even though electrical and lighting installation for your house can be done during any season; it is always advisable to take advantage of the summer period to accomplish this task. It is a well-known fact that most electrical and lighting materials are highly sensitive to water. During winter, chances that your electrical materials will come into contact with water or wet surfaces are usually high. This can easily compromise the quality of your electrical and lighting project. The easiest way to avoid such a scenario is to organize your home improvement plan such that delicate aspects such as lighting and electrification are planned to happen during the summer period.
How to Hire a Home Improvement Contractor and What to Ask
Home improvement demands a significant amount of detail and precision; a simple mistake can lead to serious damage that can be quite costly to repair. Finding an experienced home improvement contractor is, therefore, key to a successful home improvement initiative. Keep in mind that not all construction or building technicians can execute a successful home improvement project. If anything, it is always prudent to hire a contractor specializing in home improvement and remodeling. This is because most home remodeling contractors understand what it takes to facelift a home adequately. Here are useful questions to ask a home improvement technician that you look forward to hiring;
· Are you satisfied and licensed?-Nothing is more dangerous than hiring a contractor whose company is not satisfied or licensed. Most authorities insist that every homeowner looking forward to hiring a home improvement contractor should make it their duty to ascertain that they are working with a licensed and satisfied contractor. Failure to adhere to the laid down guidelines can put the homeowner and the contractor on-site in danger. Suppose you are wondering how to confirm whether a home improvement contractor is satisfied or not. In that case, you can easily access such information by checking through the contractor's page and determining whether they are licensed or not.
· Will you take care of the building permits?-Very few homeowners understand the danger that comes with having your name appearing on the building permit. Unscrupulous home improvement contractors will strive to convince unsuspecting homeowners to use their names on the building permit without explaining what that means. Typically, a building permit bearing the homeowner's name means that the duty of ensuring that a building or home improvement project is properly executed falls on the homeowner's shoulders. A responsible and genuine contractor should take care of building permits and do their best to do exceptional home improvement work. Any contractor who is unwilling to shoulder the responsibility of processing building permits should not be considered for any home improvement project, since they will not be liable for any mistake resulting from their carelessness or incompetence.
· How many jobs like these have you done?-A contractor's experience is central to a successful home improvement project; even though some home improvement activities might appear simple and easy to accomplish, experts warn that an inexperienced contractor can easily interfere with a highly sensitive home improvement procedure. Take, for instance, a job that involves knocking down a load-bearing wall or moving plumbing lines. Any contractor worth their salt will tell you that a simple mistake mentioned in the mentioned can easily lead to irreversible outcomes. This is precisely the reason why every homeowner should employ every tactic available to find an experienced contractor.
· How do you prefer to communicate?-The role played by effective communication in a home improvement project cannot be overlooked. Despite having agreed on a wide range of issues with your contractor, constant communication is still required to allow for prompt response to emergencies. When matters arising are quickly addressed, then there is no doubt as to whether a home improvement project is going to succeed or not. For improvement works meant to take an extended period, homeowners are advised to insist on weekly meetings with the project manager or contractors in instances where they are easy to access. This allows for desirable outcomes since the concerned parties are frequently in consultation.
Benefits of home improvements
Whether you plan to occupy your house for a long or short period, it should always be your top priority to regularly update your home. It is the pride of every homeowner to maintain the attractiveness of their home even if it has existed for an extended period. Here are the most outstanding benefits for improving your home:
· Modernize, and update-Nobody feels comfortable living in a house with outdated features. Over the past few years, the building and construction sector in virtually every society has continued to experience massive transformation in the form of more updated fixtures and fittings. Through improving your home, you will have the privilege of introducing modern and stylish designs into your home without going through the trouble of acquiring a new property.
· Increasing living space: As the years go by, you might find it difficult to comfortably live in a house you have known for many years. This is because the space available might not be enough to accommodate your new lifestyle. Through home improvement ideas designed to create more room by building up or building out, any homeowner stands a chance of gaining from the extra space created through home improvement procedures.
· Energy efficiency-The pain that comes with incurring high energy bills is known to many homeowners. Home improvement projects, particularly those that have to do with exterior home remodeling, have allowed millions of people to save big on their energy bills. The desire to adequately insulate your home through replacement windows and sidings will be attained since the mentioned installations will play a vital role in allowing thermal energy to redistribute more easily. The glass coating on the replacement window will also help to reduce the amount of solar heat beaming into your house through the glass. There is no need to say that such an innovation goes a long way in helping homeowners to manage their energy bills more efficiently.
· Maintenance-No matter how strong a house might appear today, failure to regularly improve it can become the leading cause of its deterioration. Most homeowners will agree that simple home damage that is not rectified can easily open the window to more complicated problems. Through the various forms of home improvement procedures that exist today, most homes have been saved from unwarranted deterioration that could dramatically reduce the value of their home.
The duty of ensuring your home looks exceptional at all times is solely in your hands. Remember that home improvement is not a one-off event; you will have to regularly improve your home if you want it to stay strong and attractive. It is advisable to take advantage of the summer period to modify your home to fit your taste and preference.