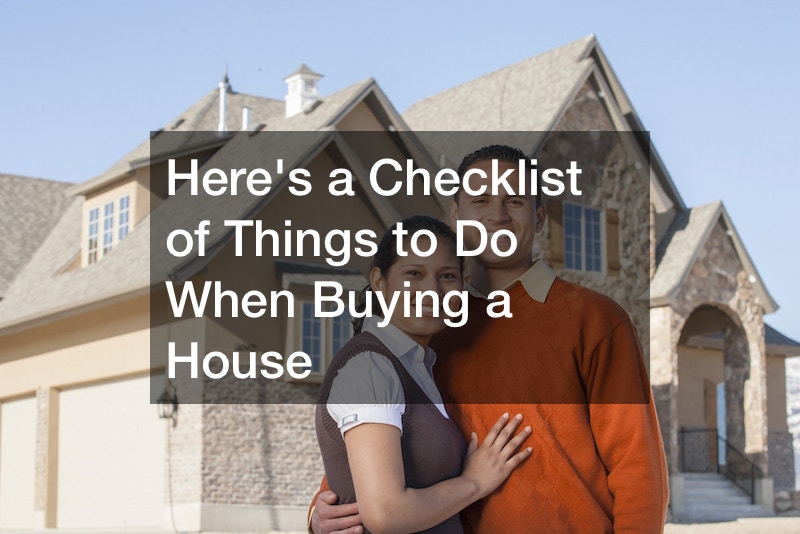 According to RubyHome, as of 11 April 2022, 65.8% of Americans were homeowners. This is all great news unless you're among the 34% of the same demographic who are renters. To be among the majority and start scouting for your future home right now, here is a checklist of things to do when buying a house.
1. Check The Roof
Having the roof inspected before buying a new house should be the first thing you add to your checklist of things to do when buying a house. This is because you can identify problems with the roof and decide if you still want to buy the property. Should you decide to buy the property, you'll have to fix all the identified problems before they get worse, including roof repairs. Get in touch with your local residential roofing company to schedule an inspection.
One of the likely issues such an inspection could reveal is a problem with the roof's structural stability. The structure of the roof typically refers to the 'skeleton' of the roof. These are the beams and rafters that support the roof. Having a strong structure protects your home from forces such as strong wind, fluctuating temperatures, and snow.
Damaged beams are another potential issue the inspection may highlight. This is mostly found on roofs that have timber beams. If the beams aren't well maintained, they may start to decay or develop wormholes. To prevent further damage, you may need to seek out roof repair services and get a quote for treating your timber beams. A clogged gutter is another issue the inspection may bring up. If the gutters are clogged or broken at any point, they may cause water to back up in the system and eventually result in rot. Your roofing specialist may suggest installing screens on the gutters to prevent leaves or other debris from falling into them.
2. Check the Plumbing
The second item on our checklist of things to do before buying a house is having your plumbing system inspected. Your potential dream house could, at first glance, look very attractive. However, don't be in a rush to make any payment yet. First, contact a plumbing service to have the house's plumbing system inspected, as there might be issues you may not get to catch by merely taking a tour of the house. Such issues may include water leakage and sewer problems.
Water leakages are a potential threat to your potential home and the overall strength of its walls. Get a plumber to inspect all the pipes and valves in the house to establish if there's corrosion in the pipes. If the plumbing system is faulty, replacements may be necessary. If the plumbing issues are too expensive to solve, carry on with your house hunt.
A sewer system that has issues can really mess up a home. Get professionals to do a thorough inspection of the entire system. It's also important to get a bit of history as to when the sewer was last serviced, the location of the septic tank, and its size. If the septic tank has issues and needs to be replaced, consider whether you're prepared to part with a lot more money than you had budgeted for since they are expensive to replace.
A faulty water heater system is another potential issue. You may not necessarily need hot water in your home, especially during summer, but as soon as the cold winter sets in, you'll definitely need it. It's important to ensure that the water heating system has no corroding elements that could affect how the water is being heated.
3. Get Rid of Pests
If you've contracted a home inspection company to perform an overall inspection of all the systems in your potential home, checking if there are pests within may not be part of the package. For this reason, getting the services of an exterminator should be on your checklist of things to do before buying a house.
You'll definitely regret buying a house if you later find out it's infested with pests. These pests may not only pose a health hazard to the entire family, but getting rid of them is going to cost money that you didn't anticipate spending.
If you get a pest inspection done prior to buying a house and it's found that the house has pests, a pre-purchase inspection gives you an opportunity to address all pest issues before moving in or at least gives you an idea of what you're getting into.
4. Buy Stylish Furniture
For a house to feel like a home, it needs furniture. Furniture in your home may be for relaxation and comfort, or for storing all your stuff. Regardless, it's important to ensure that you get stylish, high-quality furniture. Choosing the right furniture for your home is very important, as it affects the aesthetic of the whole house.
One factor to consider when buying furniture for your house is durability. While you want to invest in furniture that's durable, this doesn't always mean being expensive. However, more often than not, furniture that's priced higher tends to have better quality than the less expensive ones. Investing in quality furniture ensures your house stays as good as new for a longer period.
As much as the perception is, the more you spend on furniture, the better the quality, do all you can to stay within your budget. You can identify a local living room, kitchen, and bedroom furniture store that offers quality furniture at affordable prices. Comfort is another important factor to consider. Imagine coming home after a long day at work just to lie down on your very attractive but uncomfortable sofa; it doesn't make sense, does it? Therefore, as much as you want your house to look attractive, do not compromise on your comfort.
You also need to think about the material. Furniture is available in different shapes, colors, and materials; some are wooden, plastic, or metallic. Consider getting furniture made of material that's easy to maintain and clean.
5. Buy Appliances
For a house to be functional, you'll need several appliances. Thinking through the type of appliances you'll need for a home is an important item on your checklist of things to do when buying a house. There are many appliances to choose from, and sometimes deciding which one to pick for your home can be an overwhelming task. Should you decide to visit your local appliance store, brace yourself for the many appliances you're going to come across. You'll find a plethora of beautiful appliances that will meet both your space and style requirements. However, one question to ask yourself is if you can afford them. The good thing is that you can always upgrade later; so, you don't need to go breaking the bank just to get an appliance that you could buy at a later date when your means improve.
The size of your space also greatly influences your decision when purchasing a new appliance. There's no need to buy a fridge that'll take up the entire space in your kitchen. Consult professionals for advice on sizes and types of appliances to purchase. Being informed when buying an appliance puts you in a position to make the best choices for your home. This information could be from a friend or a salesperson in your local store. Inquire about the different brands and pick one that meets all your requirements, including the price tag. This process of establishing which appliances are ideal for the home will help you decide if it's worth the price it's listed for.
6. Change the Locks
You want to feel safe in your home. As you think about the cost of setting up an alarm system to ensure the house is protected from potential break-ins, consider the cost of changing your locks as well. There are a few reasons you should consider the cost of getting the services of a professional locksmith in your new home. You don't know how many copies of your keys are out there. Any one of the people that previously lived in the house or their friends could still have keys to your house. Even worse, the keys may have gotten lost, and a person with ill intentions may have picked them up. With a key, these people wouldn't need to break into your house; they could simply walk in. The locks may also be old and not functioning. It's quite annoying to have to twist your keys several times for the lock to finally open. This is a clear indication it's time to change your locks.
7. Add Security Features
Installing a functioning security system will bring you peace of mind as you settle into your new house. It lets you monitor everything around your home. It's therefore critical to have advanced security features in your checklist of things to do when buying a house. This means getting quotes for installing them so you can decide whether or not you can afford the extra expense. There are different security systems that promote safety in a home.
For example, installing fire alarms and smoke detectors protects the house against potential fires that could damage the property and cause harm to family members. Carbon monoxide detectors are also a valuable safety feature.
Statistics indicate that at least 430 people die annually in the U.S. from carbon monoxide poisoning. Therefore, it's important to ensure that you have set up carbon monoxide detectors to prevent potential fatalities. Burglar alarms are also a great addition. These alarms are typically set up to protect your home from burglars.
They're typically connected to the windows and doors of a house and go off whenever someone tries to forcefully enter the house. A security fence is another useful feature for a home. Other than the aesthetics, a fence provides added security to your home. It not only protects your property, but your children and pets as well, keeping them safely inside your compound.
8. Hire Reliable Movers
Moving into a new house can be tiring and expensive. To take away the burden of handling the move and cut costs, consider hiring a moving company. Hiring a moving service comes with a number of benefits. Moving companies employ professional personnel who are trained and experienced enough to ensure your moving process is smooth. They also have all the necessary equipment.
You need moving service providers to guarantee your furniture and household goods are safe and don't break during the move. When professional movers are packing your items for the move, they're keen to label all the boxes. This means your belongings won't get lost during the move or when settling into your new home.
Should you decide to move on your own, be prepared for the manual labor you'll definitely need, and it could take several days, if not weeks, to completely move out of your old house to your new one. On the contrary, a professional mover service will get the job done in the shortest time possible depending on the complexity of the move.
Hiring professionals also means you won't need help from friends and family. Although they may not say it to your face, family members and friends that you call upon to help with the move may feel inconvenienced. Therefore, getting professional help will keep the peace between you and your family members. In any case, if you hire professional movers, you are guaranteed that your items are safe, regardless of whether they are fragile or not. This is because professional movers have the necessary equipment, such as bubble wrap and packing boxes, to ensure your goods are protected.
Purchasing a house is a major choice, and there are several crucial factors to consider. It's one of the greatest financial decisions you'll ever make, but it also has the potential to be the most rewarding. These factors make the home-buying process quite emotional. While you may be enthusiastic about the property, the new opportunities, or the lifestyle you will establish, you may end up making emotion-driven decisions or forget crucial phases in the house-purchasing process.