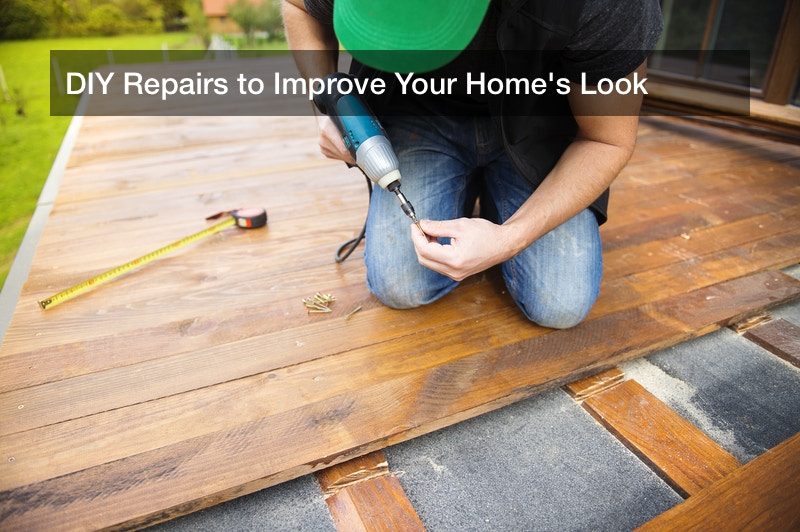 The way your house looks is the first impression visitors have of you. If your house isn't looking as good as it should, there are some home remodeling projects you can do to help it look better. These projects can also boost your home's value if you decide to sell it in the future. As a homeowner, you can do these repairs with a little bit of instruction and research. Here are DIY home repairs you can do to improve your home's look.
Give Your Bathroom a Makeover
While there are a few bathroom remodeling projects you should leave to the professionals, there are a few things you can do to give this room a makeover. Upgrade your bathroom countertops to granite to give it some elegance and style. If you can't afford to replace the countertops, freshen them up using a few cans of spray paint. You may also want to replace the mirrors, faucets, and drawer pulls.
Freshening up the walls with new wallpaper or paint will also help make it look better. Before you start, make sure to patch any holes with spackle and let it dry for a day. You can finish your bathroom makeover by adding more lighting to help you with your beauty routine every morning. You may also want to upgrade your bathroom sink fixtures and shower head to create a contemporary look.
Update the Exterior
Your residential siding has probably seen better days. Look around the exterior of your home for any cracks, holes, or gaps in the siding. Inspect the paneling for any warping or bubbling. Fill holes with steel wool, spray foam, or caulk and replace any damaged panelings. If you don't know how to do these DIY home repairs, you can find instructional videos online that will walk you through each step.
You may even want to consider giving the siding a fresh coat of paint. To clean off any mildew, power spray a liquid concentrate of oxygen bleach on the siding. If you need to replace all the siding for your home, you may want to consider hiring a professional.
Repair Broken or Missing Shingles
One of the DIY home repairs that is often overlooked is repairing broken or missing roofing shingles. Inspect your roof and if you notice a damaged shingle, carefully lift up the edges of the surrounding shingles and pry out the nails attached to the damaged piece. Scrape any remaining cement that may be underneath and round out the corners of the new shingle with a knife. This will help you slide it into place easier. Secure the new shingle in place by using hot galvanized roofing nails and cover the nail heads with either caulk or cement.
After you replace any damaged shingles, you may want to clean and repair your gutters to make sure no future damage occurs. Clogged gutters can create an overflow of water that can seep into your rook and cause water damage. Also, make sure to trim any loose tree branches that can scrape against the shingles during heavy storms.
Create Curb Appeal
One of the best DIY home repairs you can do to improve your home's look is to create visually stimulating curb appeal. Consider purchasing landscaping material that requires very little maintenance. A garden and a few flower beds will give your yard a boost of color. Think about adding a firepit or a deck to relax and entertain guests. Clean up any yard debris and add some outdoor lighting.
Another thing you may want to do to enhance your home's outer appeal is to upgrade the address numbers. Choose a style and font that accentuates your home's architecture. While you're at it, consider upgrading your mailbox to a more modern look. Walk around your home and take care of any small DIY home repair tasks such as ripped screens, chipped paint, or burnt-out bulbs. Give your garage door a fresh coat of stain.
Repair Your Driveway
You may also want to consider driveway asphalt repair. The materials you'll need will depend on whether you have a few cracks in the pavement or you have potholes that have developed. Clear your driveway area of debris first before applying any material. If you have cracks, you'll need to purchase an alligator patch, a squeegee, and seal coating. If you don't know how many patches to get, you can consult with a local hardware store professional.
Lay down the patch and use the squeegee to blend the material over the cracks. After the material dries, apply the seal coating. If you have potholes, you'll need to get some cold asphalt patch, asphalt tamper, and seal coating. If the pothole is deep, fill it in with sand or gravel first.
Pour the patch into the hole and overfill it by an inch or two. You can use a flat-headed tool to spread and even it out if necessary. Use the asphalt tamper to compact the material to prevent it from crumbling and apply a seal coat. Give the material a day to fully set before you start using your repaired driveway.
Check Your Air Conditioner
Inspecting, cleaning, and repairing your air conditioning system may not be one of the DIY home repairs to make your home look better, but it will make it feel better. Cleaning your AC unit can save you money on your utility bills, which leaves more cash for other DIY home repairs. It will also reduce allergens in your home that can lead to respiratory illnesses. Vacuum the return registers for your HVAC system and be sure to change the filter once a month. Wipe down the condenser coils and inspect the wiring for signs of damage.
Aluminum Fencing DIY Home Repairs
Over time, your aluminum fencing can become damaged by harsh weather. If the posts have shifted, you can steady them in concrete. Lubricate or replace the hinges on the gate to allow it to swing freely. If a rail is loose, you can use a T-brace to screw it securely in place. If the aluminum fencing got twisted or bent, you can hammer it back in place.
Use a wire brush to clear any rust from the fence and then apply a rust-inhibiting primer. You can then spray paint it with an exterior enamel. Before replacing a fence, check with your local city government to see if there are any building codes or permits that are required.
Enhance Your Entrance
Another one of the DIY home repairs you can do to make your home look better is to enhance our front entrance. Make it more attractive by painting or replacing your front door. Sweep the sidewalks and porch steps and fix any cracks in the pavement. You can make the interior more inviting by having a place where coats and shoes can be kept. If you have room, consider placing a small bench and a mirror for last-minute beauty checks before you head out the door for the day.
Declutter Your Home
Decluttering your home can save you from other expensive DIY home repairs. By clearing your home of boxes, clothes, and other items you seldom use, you'll make your home less inviting to pests that can cause serious damage. Your home will also look more spacious and clean. Use plastic totes instead of cardboard boxes when storing items in your basement or garage.
Fix Your Flooring
New flooring is an option for DIY home repairs that many homeowners strongly consider. Hardwood flooring is one of the most popular choices as they are the easiest to clean and maintain. If you can't afford new flooring, there are ways to make your existing flooring look newer. You can rent some machines to sand and refinish the floor and apply a fresh coat of stain. Give your carpeting a good scrub and add a few colorful rugs to help make your home brighter and cheerier.
If you have loose floorboards, you can use stainless steel screws to secure them in place. Moisten the wood beforehand to make screwing easier and use wood filler to cover the heads of the screws. Make sure to check for any hidden cable or pipes first. You can use talcum powder to silence squeaky floorboards.
Improve Your Foundation
Your visible foundation may be detracting from your home's curb appeal. There are things you can do to improve the look of your foundation without affecting its structural integrity. You can use stone veneer panels or stucco to cover the concrete and give your home a more natural look. Concrete paint matching your home's exterior is another excellent option. Make sure to repair any foundation cracks first.
You can also use landscaping to hide your foundation. Make sure that the roots don't get too close to the foundation or it can create water build-up. If water seeps into your foundation, it can create mold and rot that can make you sick and lead to expensive repairs. If you need help choosing the right plants, you can consult with a foundation repair company for advice.
Re-grout Tile
This is one of the easiest DIY home repairs you can do as a homeowner. It will help your kitchen and bathroom look cleaner. Trapped dirt in grout can cause it to discolor and damage the tile. Mold and mildew can also develop and spread because of the humidity levels and moisture every time you shower. There are four types of grout you can use. You'll need to measure your tiles in order to determine which one to use.
Use an unsanded, epoxy, or acrylic grout if your tiles are less than one-eighth of an inch apart. If the grout space is bigger than that, use a sanded grout. Be sure to match the grout color as well. To clean the grout, remove any damaged grout with a grout saw and then wipe down the joints with a wet rag. Follow the manufacturer's instructions to mix the grout.
Fill the joints and smooth the surface with a wet rag to get rid of excess grout. Allow the grout to completely set. Finish cleaning up with a damp sponge. Your kitchen and bath will look fresher and more inviting.
Brighten Your Home With Lighting
Upgrading your light fixtures is one of the most cost-effective DIY home repairs to brighten your home. For less than $100, you can accentuate your home's features. Exchange your old light bulbs for ones that have a higher wattage. You may also want to consider energy-efficient lighting to lower your home's energy bills. Consider installing recessed lighting through every room of your home. You can also add lighting under the cabinets in your kitchen and bathroom.
Repair Your Garage Door
The garage door is one of the DIY home repairs that's often overlooked. Regularly clean the components of your garage door opener with a household cleaner to prevent dirt and grime from causing damage. Make sure hinges, nuts, and bolts are securely tightened. Use a garage door lubricant on any moving parts. Check the weather seals for any wear or gaps and replace them if necessary.
If your garage door won't open, you may want to check the remote batteries or the small sensors at the bottom of the door. If these sensors get dirty or moved out of alignment, the door won't operate correctly. If you need to get into your garage but the door won't open, there's a red cord you can pull to gain access. If you need to completely replace the door, you may want to consider hiring a professional.
DIY home repairs can help your home look more beautiful and boost its value. Many of these projects can be done over the course of a weekend and won't strain your budget. You can find all the materials for these projects at a local hardware store. Choose the projects that best fit your household budget and help your home make a great impression on the neighbors and visitors. Get started today and enjoy your gorgeous new home!