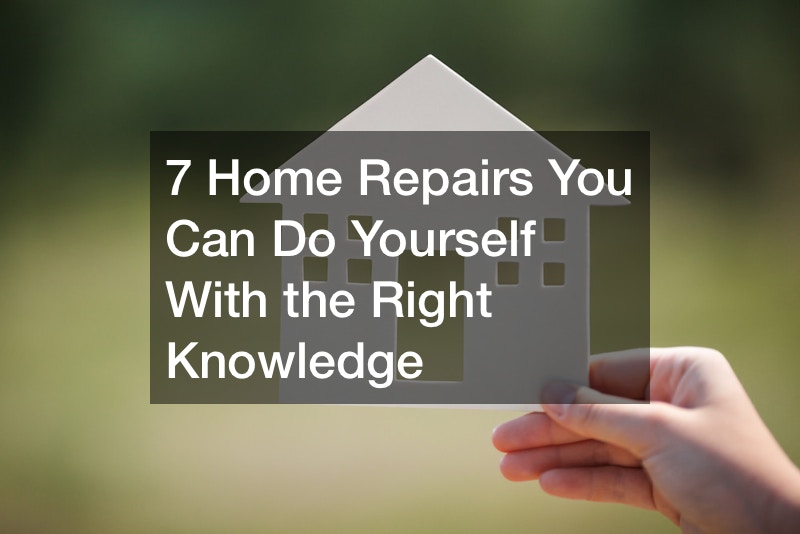 When it comes to being a homeowner or even a proper investor, knowing how to complete simple repairs is a way to save money and time with the right knowledge. Knowing what house repair jobs you can tackle on your own is a way to streamline renovation projects that sometimes include complete replacements of appliances or utilities throughout the home. Familiarizing yourself with common house repair projects will also help you feel much more confident anytime an issue arises on your property.
1. Fix Small Water Leaks
Discovering a water leak in the home can be daunting, especially if you're unaware of the source or cause. However, if you have the ability to identify the source of a small water leak in your home, you may be able to complete this house repair job with a bit of research and an understanding of basic residential plumbing. Fixing small water leaks will prevent them from becoming bigger and potentially more dangerous to the overall structure of your home.
Risks of Avoiding Water Leaks in the Home
Unfortunately, ignoring water leaks in your home can lead to much bigger issues, including permanent water damage to the actual structure of your home itself. Allowing standing water to accumulate over time can also lead to the growth of mold and bacteria, which can lead to respiratory issues and in some cases, serious or potentially fatal reactions. Allowing a water leak to continue over time may also contribute to the rotting or rusting of your plumbing if it is left unattended for an extended period of time.
Tips on Repairing Small Leaks in the Home
Anytime you believe there is a small water leak in your home, it's important to take the time to assess the root cause and direct location of the leak itself. If you are able to pinpoint the fix and repair it without the use of specialized equipment, you may be able to do so by repairing small pieces or components to your sinks or the fixture that is leaking. However, if the leak is much deeper and bigger, you will likely require the help of a residential plumber.
Finding Professionals to Assist With Small Leaks in the Home
Working with local plumbers is possible by referencing local business directories, online listings, and social media. You can ask for recommendations from members of your local community and those you know, including neighbors and friends who live in your city or region. Working with a professional plumber is a way to ensure the job is not only done properly, but also under warranty to protect your investment.
2. Clean Your Carpets
Another house repair job that you may be able to tackle on your own includes cleaning your own carpets. Cleaning the carpets in your home regularly is essential to minimize the buildup of dirt, debris, dander, and if you're a pet owner, pet hair and dander. You can regularly clean your carpets with a powerful vacuum and by cleaning them with a carpet cleaner or carpet-cleaning solution periodically, depending on how much traffic each of your rooms with carpet receives on a daily basis.
Over time, however, you may want to conduct a thorough and more deep cleaning of the carpets in your home. For this task, it may be best to search for a local carpet cleaning company that offers the carpet cleaning service you need based on the size of your home and the type of carpets you currently have installed throughout. Working with a carpet cleaning provider locally will ensure your carpets are as clean as possible regardless of how old they are, the type of fabric used in the carpet, and how much traffic each carpet receives.
3. Fix Up Your Lawn
Fixing up your own lawn is a common house repair that can be done on your own with a bit of knowledge. In most cases, lawn care such as mowing your grass, trimming and pulling weeds, and even planting new flowers can be completed as a DIY project. However, if you have a major renovation project underway outdoors and want to fix up your lawn with numerous specialized services, you may need to turn to a professional landscaping contractor or company near you.
Benefits of Hiring a Professional Landscaper
Professional landscapers are not only experienced in working on tight deadlines and schedules, but they are also well-versed in planting flowers, trees, and shrubs in the region you currently reside or work in. This will ensure that the plants, trees, shrubs, and flowers you choose for your own landscaping vision will last as long as possible in the climate you are currently in. Additionally, professional landscapers are also well-equipped with the proper tools, gear, and equipment to get started on the type of lawn services you require, regardless of the size and shape of your lawn.
4. Replace HVAC Filters
As a homeowner or even as a proper investor, one house repair that cannot be ignored includes replacing HVAC filters. In many homes, it is recommended to replace your HVAC filter between every one and six months, depending on how frequently you spend time in your home. If you have pets and children in the home, and if you use your HVAC system each day. You can learn more about when it is best to repair your HVAC filters by researching the exact HVAC system's make and model you currently have in place in your home or property.
If you are new to working with an HVAC system or if you're unsure of how to get started, you can consider hiring a professional HVAC contractor that offers AC repair or the HVAC service you need for your system. An HVAC professional can help provide complete inspections while assisting you in selecting which repair jobs require attention the most at the time. Additionally, if you are thinking of replacing your HVAC system with a brand-new energy-efficient modernized model, you can also do so when you are working alongside a local HVAC company.
HVAC specialists can work with traditional air conditioners and central cooling units as well as energy-efficient furnace systems for modern homes. Whether you want to install a programmable thermostat or you are thinking of implementing a brand-new system altogether for energy efficiency and bill reduction purposes, you can do so knowing you are making the right choice with an HVAC company you can trust and rely on. Finding the best HVAC company near you is possible by asking those you know and by researching options near you with local and online directories.
5. Clean Up Your Landscaping
If you want to become more involved with your house repair needs, you can do so by getting involved with cleaning your own landscaping. Cleaning your yard such as throwing away fallen branches, cutting your lawn, and even eliminating weeds can be done once you are familiar with identifying weeds and knowing what equipment to get started with as you get ready to begin. If you are interested in hardscape landscaping solutions or if you want to install a retaining wall, you may consider turning to professionals who specialize in landscape design.
When to Work With a Professional While Landscaping
Anytime you are actively attempting to redesign the layout of your yard or your existing landscaping but you're unskilled or unfamiliar with the process, it's best to call on a professional landscaper. If you are thinking of constructing retaining walls or if you want to implement a pond with thriving plant life, a professional landscaper can guide and lead you each and every step of the way. Professional local landscapers will also help you to better understand what type of maintenance is necessary for your yard based on the current trees, plants, shrubs, and flowers you have planted in place.
6. Paint the Interior of Your Home
One of the most enjoyable ways to transform any space in the home includes painting the interior rooms. Painting the interior of your home is possible even if you are new to painting and have never painted an interior space before. Familiarizing yourself with the painting process, learning what materials and equipment you will require, and prepping your room to prevent spills and damage can help you get started on the right track. If you do not feel creative or comfortable enough with painting your own home, even in a small room, you can also turn to professional interior residential painters.
Benefits of Painting an Interior Space in Your Home
Painting any room in your home is one of the fastest and most affordable projects to take on if you want to transform the look and aesthetic of any of your spaces. When you choose to paint the interior of your home, you can do so by painting just one focal wall or by painting all the walls in a room an entirely new color. From using solid colors to implementing patterns such as argyle, stripes, or squares, you can create a truly unique look in any room in your home with the use of interior paint.
Taking the time to update a room in your home with a brand-new paint job can drastically change the mood and aesthetic of the room. This is ideal if you are currently renovating spaces in your home or making an area with an entirely new purpose in your house or property. Depending on the choice of color you select, you can also make different rooms in your home appear cozier or much larger to suit the vision you have for the space and how you intend to use the area once the renovations are complete.
Advantages of Working With Residential Painters
Residential interior painters specialize in painting a variety of rooms in homes, from traditional bathrooms and bedrooms to unique office spaces and entertainment areas. Whether you're interested in painting your rooms one solid color or if you're looking for a truly individual design, you can get the results you are looking for when you choose to work alongside a residential interior painter. Professional painters will also demonstrate their work with complete portfolios to help you get a better idea of the style and aesthetic that is just right for the room you are planning to paint in your home.
7. Simple Plumbing Fixes
In addition to addressing small water leaks in your home, it is also possible to fix a variety of plumbing issues that may arise at some point or another as a homeowner or property investor. Over time, plumbing requires inspections and maintenance to ensure it remains as efficient as possible. If you notice that your drains are backing up due to a clog from hair or even an object, you may have the ability to clear the drain on your own.
Maintaining your own plumbing will not only save you time and ultimately, money, but it will also help you to become familiar with how your home's system works. When you are familiar with your plumbing system, you can rectify problems in less time. Additionally, if you know how to approach a plumbing issue, you will not feel out of your element when you do so on your own.
Clearing a plumbing drain is not always as complicated as it may seem if you are new to working with your own plumbing. Simply following a visual tutorial or video guide on how to remove the p-trap from beneath your kitchen or bathroom sink will help you get a better look into your current plumbing system and whether you are dealing with a clog or not. Cleaning the p-traps of your sinks regularly can prevent major clogs from occurring while allowing your sink to work and clear as efficiently as possible at all times.
When it comes to house repair solutions, there are many you can move forward with if you have the right knowledge. House repair does not have to feel overwhelming or be extremely expensive with an understanding of the work that needs to be done and the proper resources available to you. The more comfortable you become with traditional repairs around the home, the easier it will be for you to determine when it is the right time to call on a trusted professional.