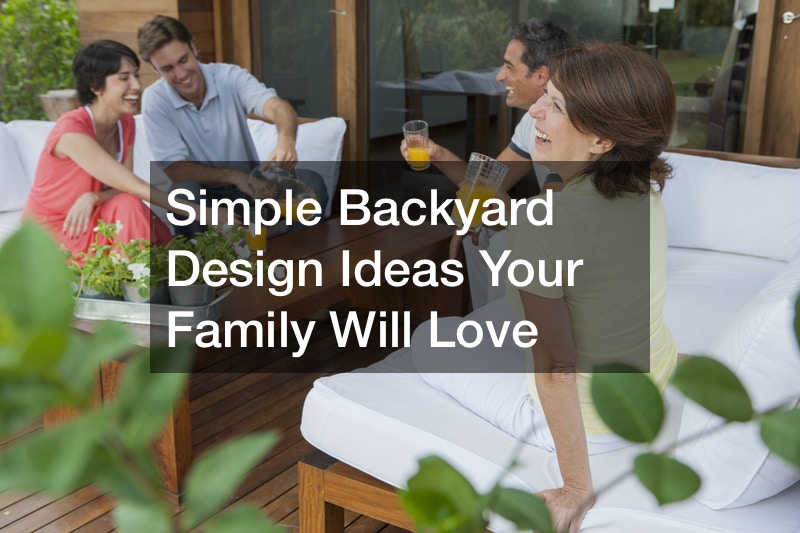 You should never neglect your backyard. It's important to take the time to ensure that you design your backyard in a way that encourages creative, active outdoor play. When your family members start wanting to spend more time outdoors in your backyard, it's a sign that they are in love with the way the backyard is designed. But how do you get to that point, and what elements do you include? Transforming your backyard into a space that the whole family will love might seem like a big job.
However, as long as you plan properly and give it enough time, you should be able to create something family-friendly. Spaces that are a blank slate may not work when it comes to enticing the kids. For everyone else, they may even be depressing to look at. Fortunately, turning your backyard into a space that everyone will love doesn't have to be a difficult job. Here are some ideas to ensure your entire family falls in love with your backyard.
People are generally interested in spending time outdoors nowadays. This is why your family will love having a patio as part of your simple backyard design ideas. However, just having a patio alone is not enough. You need to go a step further and invest in comfortable patio furniture. This serves both a design purpose and a functional purpose. Your family will generally enjoy having a beautiful living space in their backyard, and they will also enjoy the functional side of it. A comfortably furnished patio will provide an outdoor space where everyone can gather and spend time together. This would be perfect for when any one of your family members wants to sit outside and take in the outdoor air. You and your family can also enjoy the nice weather and bond together. Apart from outdoor seats and outdoor patio cushions, you can also throw in a grill to host cookouts, dinners, and more.
A fully furnished patio is a great way to extend your living space. Even when it's raining, or the temperatures are low, your family can still enjoy the patio if you enclose it. You can also leave it open when the outdoor conditions are comfortable so that your living space extends naturally. A patio acts as an extension for the room you connect it to. You just have to ensure there is a patio door. For many homes, this means a bigger living room or kitchen. When you are ready to add this marvelous outdoor living space to your backyard, you should research hardscape development. If you are unsure how to go about it, you can find a professional who specializes in luxurious outdoor living spaces. That way, you can get both substance and style. Neither of these two should be compromised when attempting to create a stylish and comfortable backyard space for your family.
If you choose to do it on your own, you may end up focusing too much on either style or comfort. However, will something that's one-sided bring joy to your family? Your space should be both practical and beautiful. It should encourage your family members to spend more time outdoors. It should also make every feel a sense of happiness and satisfaction when they look out of the window to the backyard or when they step out after a long and tiresome day. To achieve this, focus on quality garden furniture. It will be instantly noticeable. When you and your family plan to spend entire days running around the garden and chasing the sun, you won't feel like you are in a hurry to return to the comfort of your indoor living space, especially if you consider fire pits for when it's cold.
Build a Pergola
Worried about the summer heat. Well, worry no more. Another great backyard design that your family will love is a pergola. This is a great idea if you are looking for ways to keep cool on the hottest days. Here's a summer project designed to keep you cooler on even the hottest of days. The good thing about building a pergola is if you are handy enough, you can go about it on your own without much help. The stages that look like they are tough are actually the easiest. You may think that the graceful, solid-looking columns are the tough part, but they are not. Instead of using wood, you can go for posts made using a hollow-core composite material. To build this structure successfully, you will need to ensure that you order one that comes with very detailed installation instructions. You can get lots of different designs from home centers, and they come in a variety of heights, diameters, and architectural styles. Your family will absolutely fall in love with this summer shed.
Lay Some Turf
Another excellent garden design idea is to lay some backyard turf. There are many reasons why your family will fall in love with this idea. Apart from the lots of activities you and the kids can do on the turf, there's also a general sense of enjoyment that comes with seeing a fresh green lawn. The self-satisfaction and happiness that comes from looking at a nice backyard is something that every family member will appreciate. You will also find that maintaining a lawn is a great way to stay fit. If anyone in your family is a fan of exercise, they can burn a lot of calories through lawn maintenance. Did you know that for 80kg individuals, an hour of racking can burn 351 calories, compared to an hour of weightlifting that only burns 254 calories? So there you have it. Your exercise-loving family members will greatly appreciate this one on your simple backyard design ideas list.
Having a lawn in your backyard also means a safer surface for play, sports, and other lifestyle activities. If you have young kids, it's a must to ensure that there is a safe recreational surface for them somewhere on your property. The same goes for pets and adults as well. At some point, you will want to have adult gatherings, family picnics, and backyard sports without leaving your yard. These can be great bonding experiences, especially during the warmer summer months. Being able to do this in your backyard is something that every one of your family members will appreciate. This is probably why loans are usually a major component of most high-valued homes. In fact, experts suggest that landscaping your home can increase the property value by around 10% to 18%.
If you have children with allergies, you may want to shift your attention to lawn maintenance companies that offer artificial turf. That way, they can still enjoy all the other benefits without the risk of triggering allergic reactions. Hay fever and seasonal allergies can make it impossible for you and your family to fully enjoy the outdoors. They essentially take all the fun out of your glorious sunshine. According to Allergy UK, between 10-30% of adults and up to 40% of children in the UK suffer from seasonal allergies and hay fever. When you install artificial turf in your backyard, the symptoms of hay fever are reduced. This will make it easier for you and your loved ones to spend time outside. On top of that, your backyard will still be super beautiful. As parents, you will also love artificial turf because outdoor time won' translate into mean mud and mess. You don't have to deal with muddy footprints all over the place. All that will be a thing of the past.
Create a Sensory Garden
Looking for ways to get your children to enjoy the outdoors more? A sensory garden would be a great idea on your list of simple backyard design ideas. This will encourage the kids to go out and enjoy stimulating all their senses. A sensory garden is not too difficult to create. It will, however, take a bit of your time getting everything together. You will need to get elements that stimulate the sense of sight, hearing, smell, and touch. If you are not sure how to go about creating a sensory garden, you can just ask your nearest gardening center or research online.
The first thing that everyone will see in your garden is the different types of plants and their colors. So even if they don't get close, the sense of sight will still be stimulated. So for sight, you may want to look for nice bright flowers like marigolds, nasturtiums, and sunflowers. You can also get the Swiss chard for its stems in several colors. If there is a nursery in your area, you don't have to stick to the flowers mentioned above. You can just find interesting color combinations to throw into your garden.
Once you are done with the sense of sight, you will also want to find a way to stimulate the sense of hearing. Rattling grass and seeds can be lovely to listen to when the surroundings are super quiet. You will find that the different textures, like the downy leaves of sage, will encourage the kids to use their sense of touch. You should also find ways to include the sense of smell as well. Several plants can help you achieve this. For instance, you can get the curry plant and the chocolate cosmos. This will go a long way in helping you create a sensory feast of diverse plant colors, shapes, sizes, textures, and patterns. How about the taste? Well, this one is probably the easiest. You can stimulate the tastebuds by growing juicy strawberries, easy herbs like mint and chives, and fruits.
Apart from focusing on siding companies, roof contracting, and hiring a paving company for repairs, you also need to create spaces for your family to relax and have fun. All you need is to set enough time aside for these simple backyard design ideas. You should also remember to get help when you can. You can also get a pool contractor to build a swimming pool for you if you have the budget for it.