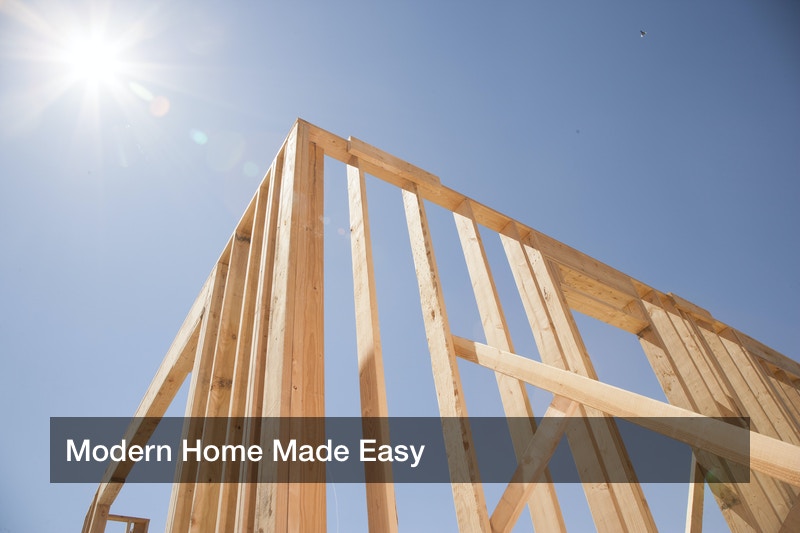 Whether you're going to sell your home or renovate the basement, or simply change a room, modernize your home with these top home repair tricks. Modernizing your home means you're updating anything that's outdated, falling apart, or needs repair. In some cases, you'll be able to do some of the necessary repairs yourself. Tackling the upgrade now can turn your house into the place you've always dreamed of. Code-specific upgrades also make it safe for you and your family to live in your home, worry-free. While you don't have to undertake all these hints, tips and tricks—it's a good bet that doing just one of them will make your home more modern than it is currently. Painting a room is not that tough, it's something you can take on as a weekend project. You're not alone in thinking you can do it yourself and do it less expensively. About 67% of American homeowners think they've overpaid for professional repairs to their home.
Outside
The other doors
You want to know the best curb appeal upgrade other than new landscaping or siding? A new set of residential garage doors. A clean, complimentary look to your home is a great way to give it modern appeal. And don't ignore what's inside the garage. Because it's not just about replacing the doors, you have to consider the outdated items collecting dust. Go ahead, organize your garage—even if the car is safe outside and you're only using it as a storage space. Everything should be accessible and well-labelled. Can't deal with it all? Then, get rid of that junk. Nothing says old and decrepit like a garage that's stuffed with stuff. Many companies can haul away large items cluttering up your garage.
Stabilize your home
Maybe you've looked at your home from the sidewalk and it seems lopsided. Or, you've looked at the basement floor and it's cracked or uneven. This is not a DIY fix. You'll need to look into a residential foundation repair service.
These professionals have the capability to provide more intricate fixes. Piering or piling is the remedy used to correct a settling foundation. It's the process of driving steel pipe pilings into the concrete foundation. Services also include mud- or slab-jacking is the process of pumping a slurry (a mixture of water, dirt, and cement) underneath a concrete slab in order to lift it. Yes, it may sound costly. But there are options if it's beyond your budget. Don't be afraid to head to the bank; you can get affordable home equity or low interest construction loans.
Update the top
Hiring roofing contractors to update the material or color of your roof is a great way to not only modernize, but it can increase the value of your home. The reality is that repairing a roof is less expensive than replacing a roof–which can cost $10,000. You'll need the expertise of roofing professionals. However, depending on the size of the roof or the size of the repair, you may be able to do it yourself. If you only want to replace a portion of the porch gable with material like three-tab shingles or metal roof panels, you may be able to complete it with a friend or two. No matter who performs the repairs or replacement, keep the receipts and other information about the date of the replacement, the materials and any guarantee or warranty.
Improve the look of your windows
Other home repair tricks include giving your windows a new look. If replacing all your windows is not within your budget, window sealing might be the better option. The cleaner caulking or sealing tape can make your home appear more up to date. Another bonus is that sealed windows can go a long way in making your home less drafty. Sealing windows allows you to insulate your home, and may even lower your electric bill.
Chimney sweeping and keeping
If you are in an older home—say, 30 to 40 years or more, you'll need to get many of the important systems changed and up to code. The same thing goes if you have a chimney. Some homeowners feel confident enough to clean (or sweep) their own chimneys. They view this cleaning as a simple home repair tricks of the trade. (And aren't afraid of heights.) Yet, there are certain parts of the chimney that require professional training. If the interior brick or lining of your chimney is breaking down, you might be looking at a carbon monoxide issue in your living space. Then you'll need to bring that chimney up to code. In addition, some chimneys made not be high enough—typically 10 feet higher than the tallest part of the roof. If it isn't the draft produced by your chimney won't pull the exhaust and the smoke goes right back into your home. Chimney sweeps can put you in touch with a chimney mason. They will be able to modernize your chimney and bring it to the correct height.
Stuck in stucco?
While stucco, also called render, was a popular décor years ago, old, cracked stucco is visually unappealing. Once it becomes faded, it will require more than just a power washing. It is still used in the southwest because the plaster and cement compound is able to withstand the extreme heat. In other locales, stucco was used to cover over something that was considered an eyesore. It's easy to apply, goes on wet, and dries like cement. To update a dated stucco look, one of the best home repair tricks is to paint over it. Just like painting any wall, clean the stucco first. Next, repair any cracks or holes with masonry caulk. Lastly, use a primer to prepare the stucco for the paint. Most exterior paints designed to cover stucco are resilient and long-lasting. Expect one gallon of paint to cover 200 square feet of wall.
Inside
Bundle your updates
When you're looking at the inside of your home, your budget can get a bit out of hand. Don't panic. More than half of Americans who own a home, admit they don't even have $1,000 in savings to make home repairs. Some of interior renovations just might be covered under homeowners insurance. For example, if your plumbing is leaky, of course, reach out to plumbing contractors.
But if it's something that was a sudden emergency and they need to repair more than just the leaking pipes, or water heaters repair, take a look at your policy. You may be able to update your vanity and fix those pipes. Don't go overboard because you won't be able to claim all the water-related issues. That mold in the downstairs closet? It's tricky because, if you want that sort of damage covered, you'll need to modernize your insurance with optional riders.
And speaking of the bathroom…
You won't need a huge makeover, because one great little update is to switch to marble countertops for the bathroom. While granite is more durable, marble is less prone to stains and scratching. So, save the more expensive granite for the kitchen. In addition, simple home repair tricks should always make your bathroom easy to clean. Replace your vent and fan to keep your bathroom well-ventilated. A cool, dry bathroom will discourage the prevalence of mold. Mold is nearly impossible to remove once it's discolored any surface—tile, grout, plastic, or even textiles.
Cool kitchen
In the kitchen, the home repair tricks are endless. Giving your kitchen an upgrade, can range from getting a new sink, painting the cabinets, or a backsplash. The great news is that if you choose to really renovate–the return on investment (ROI) on a kitchen remodel is about 80% of what you've put into it. Simple adjustments, like switching out cabinet handles, knobs or drawer pulls are a click away. One fun kitchen renovation is removing cabinets and replacing them with tiered shelving. Hardware replacement is great for narrow or small kitchen to give them a feel of openness. Another one of the great (and simple) home repair tricks, is replacement. If you don't have money to replace the entire sink, just replace the faucet. A brushed nickel faucet may run you about $200, but it will look like a million bucks. If you have a window in the kitchen updating the treatment with a new pattern or fabric.
Fresh air is worth it
Every home has a particular smell. Do you remember your grandma's house? Did it smell of graham crackers and lavender? It may have also smelled of mold. It wasn't because grandma was not a good cleaner, it's because most older homes have peculiar issues that keeps certain smells in the air. Often, due to the nature of the fix, those smells are never addressed. One of the simplest home repair tricks to improve the inside aroma, is to use scent diffusers. Scent or fragrance diffusers can as simple as sticks placed in vials of oil or oils heated over small candles. The idea is that the scent from the oils is released into the air. Larger, more sophisticated diffusers can humidify your air which helps you fall asleep at night. Perfect for home, office, yoga, and bedroom. Or modernize your air and invest in a good HVAC system. Check online to see who's in your area that performs HVAC services. An HVAC system controls the overall climate and helps with air flow and quality. You always want your home to smell fresh and new, not old and moldy. If that smell is in one area, look for small, air purifying portable units that can go from room to room.
No more unwelcome guests
Modernizing your home also mean you need to go beyond the walls and the floor. If your home was once a farmhouse, and you've done your best to bring it up to date, you still might have a critter problem. Or you may have noticed damage to the wood in your home. You don't need the mice or termites to keep calling your home theirs. If you want to be all-natural, you can use peppermint oil in places where you might have seen mouse dirt. If you're too squeamish, there are many companies who do residential pest control services. They can swiftly rid your home of termites or mice or anything else that is making your home dirty or old. One of the best home repair tricks for mice chewing is to replace baseboards with composite materials like polystyrene, which is more flexible than wood, and not as tasty.
Safety first
Home security systems are a great way to ensure your home is guarded. Most homes today are already equipped with smoke detectors and carbon monoxide alarms. Adding security cameras or an entire system, takes home safety to another level. The installation of certain systems may be done by the homeowner. You can install cameras that attach to the porch or front façade of your home to watch whatever area it's aimed at. However, you'll need something more to monitor the inside to keep your family and possessions safe.
Decide what you need
Like a trained watched dog, some security systems will sound off an alarm to deter anyone trying to break in. Other, more complicated systems, sound off an alarm, alert you and alert the police. If you'd rather an expert do it, look for systems that come with money back guarantees and customized installation. Also look for systems that come with battery backup should you lose power. While not one of the better-known home repair tricks, it's recommended that if you do experience a break in, you should change your door locks. Take a trip to your local home repair store to buy a replacement deadbolt system or handle set.
Upgrades to your home can range from the simple to the complex. They can be something you can do yourself or you can hire a professional to complete the task for you. Regardless of your choice, get a contract from the professionals. If doing it yourself, be patient and take your time so that you do it right and do it once.