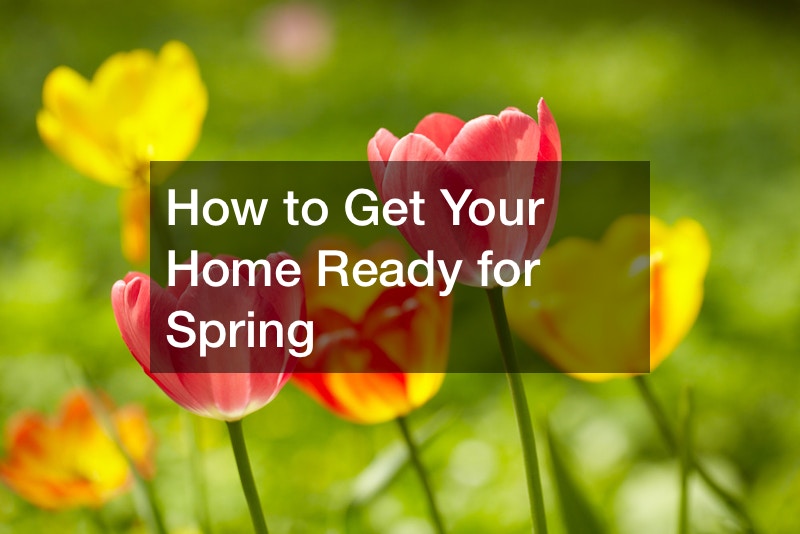 Spring is a season of new beginnings, so it's the perfect time for home maintenance. If you take care of essential tasks at the start of the season, you can relax and make the most of the warm weather. Not sure how to get your home ready for spring? These suggestions will help you prepare for the new season.
Have Your HVAC System Serviced
Your HVAC system keeps your home at a comfortable temperature throughout the year. While taking your system for granted is easy, you should remember that it requires regular maintenance and upkeep. Having professionals service your system could help you avoid problems later down the road.
Without upkeep, your HVAC system could break down at an inconvenient time. No one wants to wait for heating repair in the winter or AC repairs in the summer. Taking care of your system in springtime will ensure it runs reliably when you need it the most. Maintenance is also a great way to extend the lifespan of your system.
Even better, that maintenance could save you money! Servicing your HVAC system will help it run more efficiently, which could lower your energy costs. It could even improve the air quality of your home. You've likely been using your HVAC system all winter, so now is a great time to have it serviced. If you don't know how to get your home ready for spring, your HVAC system is a great place to start.
Add an Epoxy Coating to Your Floors
Epoxy is a great way to protect concrete floors from staining, water damage, and other wear and tear. If you spend a lot of time working in your garage or basement, an epoxy floor coating is something to consider. The coating is poured over your flooring, leaving a seamless service behind.
Once floors have been coated with epoxy, they're smooth and easy to clean. Since epoxy is naturally resistant to water, it's also a breeze to clean up spills. A coating like this is an excellent way to protect the floors in your workspace from damage. It's a form of preventative maintenance that can keep your floors in good shape.
When thinking about how to get your home ready for spring, it's important to consider how you use it. Epoxy flooring isn't right for everyone, but it can be a great investment if you spend time working on cars in your garage or building things in your basement. Best of all, an epoxy coating can enhance the look of your flooring.
Look Into Updating Your Floors
Are the floors in your home starting to look dated? If your floors show visible signs of wear and tear, it may be time to refinish them or install something new. Talk to a company that specializes in flooring services so that you can find the best option for the floors in your home.
Updating your floors isn't just about appearances. Depending on the type of flooring you choose, your new floors may be easier to clean! Some types of flooring, like laminate, hardwood, and tile, can even help insulate your home, which could potentially lead to lower utility bills for you.
New floors are also a way to boost the value of your home. If you replace carpeted floors with hardwood flooring, you can expect a return on your investment. Your home's value will also increase if you refinish your old hardwood floors and make them look new.
Your flooring greatly impacts the look and feel of your home. If you're unhappy with your floors, consider making some changes when deciding how to get your home ready for spring. From classic hardwood to newer options like bamboo or waterproof flooring, there are plenty of options worth considering!
Review and Update Your Homeowner's Insurance Policy
Every year, take the time to assess your home insurance policy to ensure it meets your needs. When you review the policy, you should check to see what is and isn't covered. Confirm that you have enough coverage to protect yourself in an emergency scenario. If you're in an area with high flood risk, you may want to look into supplemental coverage.
It's also a good idea to consider your deductible. If your deductible is a percentage rather than a fixed dollar amount, it could change yearly. Ideally, it would be best if you aimed for a higher deductible so that you have lower premiums. However, it's important to consider what sort of deductible you can afford.
You never know when you'll need insurance coverage. Going over your policy now will allow you to update your coverage. When you think about how to get your home ready for spring, you shouldn't just focus on the house itself. You should also look at the insurance policy that protects your home.
Look Into Window Coverings
Days are longer in the spring, so you'll have more natural light to enjoy. Even if you enjoy the sunshine, you should look into ways to block sunlight. Blackout curtains are a good option for the bedroom. Your curtains can fully block out sunlight, allowing you to sleep in on sunny mornings.
Another option to consider is window shutters. When you install shutters, you can control how much light you let into your home. There are several styles to choose from, including plantation and cafe shutters. You can even have your shutters painted so that they complement the rest of your home.
Other window treatments that could work well include blinds and Roman shades. You can use the same window coverings throughout your home or different window treatments in each space. Don't forget about the sun when you're figuring out how to get your home ready for spring!
Do Some Deep Cleaning
Even if your home looks clean, dust and debris are likely lurking in places where they can't be seen. To ensure your home is spotless, you'll want to do a bit of deep spring cleaning. From window washing services to carpet cleaners, this is a good time to clean the parts of your home that usually get ignored.
Deep cleaning involves sanitizing, disinfecting, and cleaning areas that aren't usually visible, like the inside of your vents. Cleaning these areas can significantly improve the air quality of your home. It's also a good opportunity to organize your home and handle messes you've neglected.
When cleaning, focusing on one room at a time is best. That way, you can pay attention to details and give each room the attention it deserves. You can scrub the grout in your bathroom, vacuum behind your refrigerator, and dust your home from top to bottom. It's also smart to clean spaces filled with clutter, like your attic, garage, or basement.
While you can set aside time for deep cleaning, you may want to seek professional help when determining how to get your home ready for spring. Professional cleaners have access to supplies and equipment the average person doesn't have. They'll be able to thoroughly clean your home, making it easier for you to keep it clean throughout the year!
Schedule Plumbing Maintenance
Even if you haven't noticed obvious signs of plumbing problems, like clogged sinks or leaky toilets, having a plumber look closer at your pipes is still a good idea! Like all components of your home, your plumbing experiences wear over time. Preventative maintenance is an opportunity to catch issues before they cause significant problems.
During maintenance, a plumber will check your water pressure, flush your water heater, and examine the pipes throughout your home. If there are any problems, they can be fixed right away. Problems like water leaks can cause your utilities to skyrocket so this basic maintenance could save you money.
Don't wait for an emergency to call for plumbing services. If your pipes are inspected regularly, you can keep the plumbing in your home in good shape. It's a good idea to have maintenance done annually or biannually. Consider scheduling maintenance if you decide how to get your home ready for spring!
Stock Up On Storage Containers
People often rotate seasonal items in and out of their closets when seasons change. If you plan on doing this, you'll want a safe place to store these items when they're not in use. Clear plastic storage containers are a great place to store winter coats, boots, and other items you won't need in the spring.
Dirty clothes can get moldy in storage, so washing everything before it's stored away is best. When you're packing things away, you should also do some decluttering. This is a great opportunity to donate or sell the items you no longer use. That way, you'll have less to store!
Clearly label all your storage containers to find items if you need them quickly. Toss a few cedar chips into each storage container to keep pests away from your clothing. Keep your storage containers in a cool, dark, and dry space to prevent damage. Don't forget to check on your items in storage occasionally.
Picking up a few storage containers can help you organize your things. When figuring out how to get your home ready for spring, the organization should be a priority. Ensure a safe place for all the items you want to store.
Prepare Your Yard
Once the outside of your home is ready for spring, you should look at your backyard! Dethatching your lawn is an effective way to deal with brown spots or bald patches left behind after winter. You can rent a dethatching machine, hire landscapers, or use a rake to loosen the thatch on your lawn.
Flowers bloom during the spring, but weeds also grow. Applying a pre-emergent to your lawn can help prevent weeds, saving you future stress. You can also keep your yard weed-free by mulching your flower beds and growing your plants closer together. While you might have to pull a few weeds this summer, you'll have less work to do if you take some preventative measures now!
If you have trees on your property, have a tree service prune away dead or damaged branches. Pruning can keep branches from falling to the ground during storms and encourage trees to grow! You may want to look into other options, like tree removal if any of your trees are in poor condition.
You'll likely spend a lot of time outside during the spring. That's why you shouldn't overlook your backyard when determining how to get your home ready for spring. Give your indoor and outdoor living space the care it deserves. Your home will feel larger if you take advantage of your outdoor living space!
Prepare for Emergencies
You never know when an emergency will strike, so it's best to be prepared! Put together a disaster kit that contains at least a few days of food and water. Your kit should also include other supplies you'll need in an emergency, such as a flashlight, batteries, and a first-aid kit!
Investing in a backup generator will allow you to maintain power during a power outage. This is a worthwhile purchase if you live in an area with frequent blackouts. With a generator, you can keep your home running and prevent refrigerated food from spoiling during prolonged outages.
Besides stocking up on supplies and emergency equipment, forming an emergency plan is a good idea. Sit down with your family and discuss what you should do in emergencies. If you're in an area that experiences natural disasters, like tornadoes or hurricanes, ensure you're prepared for them.
Emergencies are out of your control, but you can ensure you're ready for an emergency. Preparing for power outages, natural disasters, and other emergencies can protect your home and save you from future stress. Make sure you're ready for anything this spring!
Spring is the perfect time for bike rides, picnics, and appreciating the outdoors. If you figure out how to get your home ready for spring now, you'll have plenty of time for the activities you love. Now is the perfect time to get started on your spring cleaning.