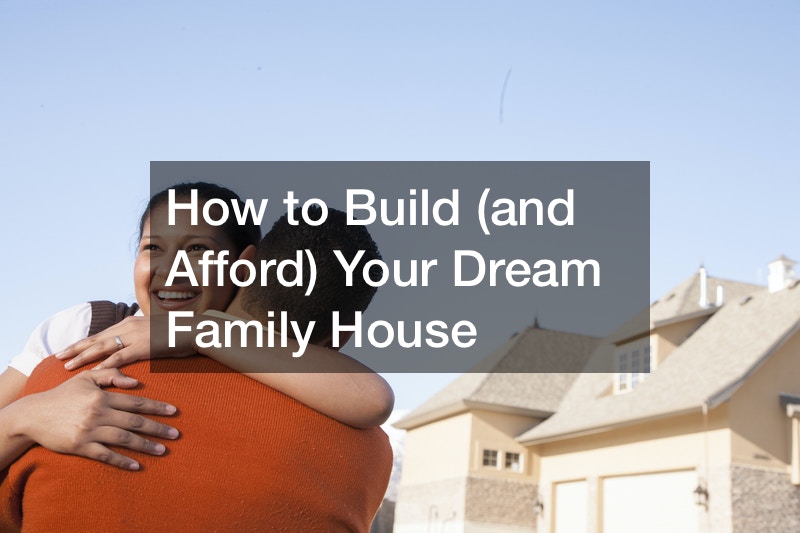 A family dream home provides a perfect place to make memories and unwind. You don't need to be a millionaire to own an ideal home for your family. A little preparation and planning can get you to your dream home. There is a range of options for those who want to own a home. This guide presents multiple ways you can use to get your own home.
Increase Your Income

Many people are looking for ways of increasing their income. The reasons included the urge to get out of debts, saving for the future, having a cushion for emergencies or building their dream home. Multiple options exist through which you can increase your income.
Advantages Of Increasing Your Income
When you increase your income you:
become less stressed about finances
Increases your ability to pay debts faster
Increase your ability to save money for emergencies and other financial goals
Have Financial Stability

If you plan well, you can increase your income in the best way that suits you.
10 Ways to Increase Your Income
Create a Passive Income
Passive income allows you to generate more money without pursuing education or training. You can earn passive income through blogs, YouTube channels, or influencer marketing on social media platforms. Although they require time and effort, they are an excellent way to make a passive income.
Going Back to School

Although it is not instant, it promises better salary and career opportunities. As you progress in education, you will qualify for the next possible higher-level, which will earn you more money. However, it would be best if you research to ensure your field increases salary for obtaining a higher education, since not all careers work like this.
Start a Business.
Starting a business is a good way of increasing your income. You can become a freelance writer or turn your hobby into a side job.
Modify Tax Withholding
For quick cash, you can amend the tax being withheld from your paycheck. You will receive a bigger paycheck in your next pay period. However, note that you will still need to pay taxes on your income at the end of the year as per government relations.
Earn a Certificate
You can increase your income by earning a certificate in some careers, including financial planning, personal training and human resources. Use a few resources to take a program and get a certificate. You can complete many programs online. Research the certification or licenses available for your career and get one to boost your income. Those who want to become securities professionals can register for Finra exam sponsorship to get licenses for securities professionals.
Ask For a Raise
If you are a great employee with a proven track you can ask for a raise. Also, apply for an open position which can be your opportunity for promotion. When you show interest in advancing in your company, the greater your chances are to be allowed to move up and earn more.
Take Advantage of Your Hobbies.
You can turn hobbies like videography, art, or gaming into a new income-generating activity. Also, online resources allow you to open online shops where you can sell yourcreations.
Join a Rideshare Company
If your driving record is good and your vehicle is in good shape, you can apply and drive for rideshare companies. This can be a good venture as it allows you to set your schedule and earn more without sacrificing personal and family time.
Sell Lightly Used Items Online.
Some online platforms allow you to sell items and clothing that you no longer use. However, your items need to be used slightly. For each listing, use a high-quality photo and descriptive information. Also, you can find gently used designer items in thrift stores and post them to make a profit.
Online Survey
Share your ideas about brands to help companies deliver better services and products. A completed survey earns you virtual points that you can redeem for gift cards and PayPal.
Home Improvement
Home improvement can also help with your dream family house strain. It is a great way to feel happier and comfortable. All you need is to factor in the changes you need to make to make you feel comfortable living in the house.
Benefits of Home Improvement
Update And Modernize
Home improvement will help you update and modernize your home. If your home looks old and tired compared to your neighbors, it's time for home improvement. This will help make your house look fresh and contemporary.
Increasing Space
Expansion or room addition allows you to roam through your home. It creates an extra space to host guests or to hang out. Also, add-ons such as sunrooms will enable you to enjoy the sunshine without the blasting of summer wind or winter chill.
Energy Efficiency
Apart from enjoying a modern and spacious home, you will save a lot in terms of energy. Your bill on energy will grow smaller compared to the previous ones. Exterior home remodeling, like replacing windows and new siding, helps to insulate your home, allowing proper distribution of thermal energy. Also, glass coating on replacement windows cuts down the amount of solar heat that shines through your glass window into your home.
These improvements help in keeping the temperature of your home close to that of a sunny day year-round. With the controlled temperature, there is no need to turn on the air conditioner or heater that much, translating to lower bills and more money.
Maintenance
With time the roofs, handles, siding, windows and seals age. Some might even break down completely. Improving your home now helps to stop the headache of your home from breaking down in the future.
Once you replace your siding, doors and windows, you will sit down and enjoy them for longer. Nowadays, replacement of windows, doors, and sidings use durable materials such as fiber glass, composite, fiber cement and vinyl. The materials can withstand harsh conditions and require less maintenance.
Customization
A home improvement allows you to customize your home according to your taste and needs. It is an opportunity to create a dream home or make the space enjoyable and valuable.
You can add a home theatre or tear a wall down to open up some space. Also, you can update your bathroom to look like the inside of a luxury portable restroom or create an office where you can become productive.
Here are some home improvements that you may consider.
Painting And Repairing of Interior And Exterior Walls.
The first thing you see when you get home is your exterior wall. A fresh coat of paint will make your home look fresh, modern and universally appealing. Also, painting helps defend your wall surface from wear, tear and other elements.
For small rooms, you can use beige, grey, and white colors to help the room reflect light and make it feel more open.
Upgrade Windows And Doors
A slight change to your windows and doors makes a difference in how stylish your home looks. Also, replacing the old doors and windows with new glass accessories can make your home energy efficient. This will translate to an affordable household running cost and an environmentally conscious property.
Add a Sunroom
Adding a room is an excellent way to improve your home. A sunroom will allow you to enjoy the outdoors while still inside under a controlled environment. Also, you can use the space as a playroom, green room, and workout space or breakfast area.
Yard Lighting And Landscaping
If you love an attractively landscaped yard, it will not take you long to fix and make it shine. Investing in rocks, new soil, ground covers, shrubs, mulch and trees will help transform your yard, making it unique and inviting. You can do this as a DIY project or enlist the services of a professional landscaper.
Also, focus on lighting. Night lighting in the yard creates a modern chic for your yard.
Upgrade Your Kitchen
Kitchens are essential communal areas for homes. An ideal kitchen should have adequate water taps, bench tops and cupboards. For a simple makeover, you can paint cabinet doors or replace old hardware.
The old dishwasher could cause havoc to your water bill. Install a new dishwasher to save on water usage. Also, consult or look for a water mitigation service on less expensive ways to get clean water in your home instead of buying bottled water. Also, improving your kitchen lights will make the space look and feel more comfortable. You can also opt to do deep cleaning or refinishing of the kitchen floor instead of replacing it.
Change Your Ceiling
Give your ceilings a makeover to update a room into a modern look. Also, you can use accent colors to paint your ceiling, install ceiling tile or add faux beams
Update Your Bedroom
Your bedroom should be a space that you enjoy spending time in. For smaller bedrooms, you can use decorations or a decorative mirror to make the room look bigger. Consider the size and placement of room furniture. Also, you can consider upgrading the floor to wood floors with radiant floor heating. Install wall cabinets to save space. Your room should feel inviting. You paint it with colors that make you comfortable. Have a cohesive color or theme and keep the room clean.
Garage Remodeling
Remodeling your garage allows you to get more space to move around. Creating additional storage units enables you to get things off the floor to create the extra space. Also, proper garage door installation ensures your car and belongings will be protected from bad weather and thieves.
Be Organized
Organizing your home can make a significant improvement and make you feel more comfortable in your home. Managing your home is a quick and affordable makeover.
Start by organizing the spaces where you spend most of your time moving to the rest of the house with time. You can purchase organizing buckets or shelves, but first, you need to complete the free organizing tasks. Find a permanent place for things that are on surfaces such as counters and tables. Organize your refrigerator, shoes, clothes and pantry. Organizing is time-consuming, but it will surprise you how much better you feel when you finish.
Bathroom And Toilet Repairs
You do not need to go crazy about renovating your bathroom with new tubs, toilets, a new shower or a bathroom cabinet store. A good bathroom is aesthetically appealing and functional. You can work wonders in this room by making minor repairs such as painting the walls and repairing tile grout. Also, you can repair chops in the bathtub or sink and clean your exhaust fan to make the fixtures look new. However, you may need to replace the old lighting fixture with energy-efficient or user-friendly models in some cases.
Internal Lighting Fixtures
Lighting is essential as it makes the house look good. You can play with distinct features of your home with the right lighting effect. You can use downlights in almost all spaces and spot-lighting to play some pieces of your home décor.
Roof And Foundation
Have a professional inspector coming over to inspect your roof foundation before beginning repairs. You can then get a home builder or residential roofing professional to work on your foundation or roof. . Other ways to acquire a dream home include:
Mortgage
Building a home takes time, and you have to deal with construction loans. Do the numbers and find out how much you can afford when getting a new home. Stay ahead of the rates and lock in when an optimum opportunity arises.
Get Credit Cards With 0% APR.
It is not cheap to build a house. However, if you take advantage of a credit card with 0% APR, you will save loads of money. The cards offer zero percent interest for a duration ranging between 12-21 months. This allows you to change some of your home-related expenses for a year or longer without paying interest.
Acquiring your dream home is exciting, but coming up with the money to do so can be daunting. However, the ideas on how to increase income and how to improve your home can enable you to achieve that dream home that you always wanted.