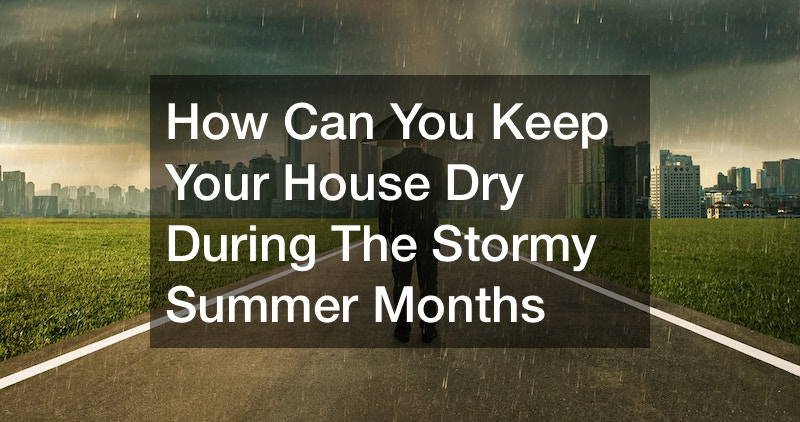 Maintaining a dry home is essential as a homeowner, regardless of the size of your home and the main materials used in its construction. Preventing leaks and water buildup in and surrounding your home is one of the most important priorities to keep in mind as a homeowner, especially during the stormy summer months of the year. If you have a basement, you may be debating waterproof versus water resistant flooring. Understanding the difference between waterproof versus water resistant flooring and how to go about minimizing the risk of dampness or flooding can help you protect your home as best as possible in any region and climate.
Clean Your Home's Surroundings
If maintaining a dry home is important to you year-round, you should always maintain your home's surroundings. Keeping your lawn and gutters clean and clear from outdoor debris can prevent water buildup, clogs, and the natural ecosystem in your yard. Regular lawn maintenance and landscaping are key to preventing any potential issues from becoming out of control. Inspect large trees and shrubs for roots that may be growing out of control, as these can lead to foundational issues or leaks.

Inspect Your Home for Potential Leaks
Before choosing waterproof versus water resistant flooring, it's important to prioritize inspecting your home for potential leaks. Leaks can occur at any time and just about anywhere, even if your home is relatively new. Leaks can occur on your roof, in your basement, in your attic, or even in the foundation of your home. Inspecting both the interior and exterior of your home at least twice a year is highly recommended. If you're unfamiliar with how to go about doing so, you can hire professionals to conduct the inspections.
Inspect Your Pipes for Clogs
When stormy weather arrives, flooding and water main breaks are also much more prevalent. Maintaining the pipes in your home is also essential to minimize the risk of backups and in some cases, serious floods in the home. Having your home's pipes inspected at least once a year is highly recommended, especially if you currently live in an area that is prone to floods, sewer drain issues, and clogs. Clogs are also much more common on properties that are surrounded by large trees, especially those with massive root systems.
Inspect Your Home's Roof for Leaks and Issues
One of the biggest culprits of water damage in a home comes from the roof itself. The roof is one of the most important elements in any home, regardless of the size and style of your home and roof. Without a properly maintained roof, you run the risk of allowing water into the home, which can ultimately result in leaks, floods, and structural damage. Inspecting your roof for leaks, missing shingles, flashing damage, and sagging can help you to determine who you should call on for the roof repairs you need.
Benefits of Hiring Roofing Professionals
Whether you're in need of a complete roof inspection, repairs, or a roof replacement, it's best to call on professional roofers you can trust. Hiring professional roofers is a way to protect yourself from legal liability in the case of an accident or damage that occurs while the contractor is working on site. Professional roofing companies are not only licensed and insured, but they typically train their roofers to work on both residential and commercial properties. Working with a professional roofer is a way to learn more about your roofing issues, the roofing materials available to you, as well as solutions that are optimal for your current roof's condition.

Prevent and Eliminate Mold Growth
Mold growth is typically due to damp and wet conditions. Basements that are left unattended are much more ripe for mold growth, as well as dark and damp spaces throughout the rest of your home. Preventing and eliminating mold growth is vital for a homeowner or any type of property investor. Due to the risks of mold, conducting inspections of your property regularly is highly advisable. Mold growth is not only unsightly, but it can trigger allergic responses, asthmatic attacks, and in severe cases, neurological and autoimmune responses. Addressing mold in your home, even if the issue appears minute, is one of the most important responsibilities you must assume as a homeowner.
If you believe you have mold in your home or if you want to learn more about spotting and identifying mold in your home, seek out mold removal contracting specialists. Mold removal specialists understand how to spot mold, various types of mold, and the best mold remediation solutions for both residential and commercial properties today.
Update or Replace Your Current Sump Pump
During the stormy season of the year, you're much more likely to experience issues with your home's drain system and sump pump. If you believe your sump pump is clogged, outdated, or simply no longer functioning properly, it may be time to consider a professional sump pump replacement. Investing in your sump pump is a way to minimize the risk of potential clogs and backups, which can result in flooding and ultimately, extreme water damage to the home. Ongoing maintenance of your sump pump is highly recommended, especially if you reside in an area that is prone to numerous storms and backups each year.
Monitor Your Water Bill
One way to keep an eye on the operations of your home and its current plumbing system is to monitor your water bill each time you receive one. Keep track of any unexpected increases in your water bill, especially during stormy summer months. If you notice a major increase in your water bill but you are not increasing your water usage, you may have an issue that requires further inspection.
In many instances, an increase in the water bill may indicate that the plumbing in your home is not working efficiently or that there is a leak or even a clog in your plumbing. When fixtures are required to utilize more water than necessary in order to keep working properly, you are likely to see a jump in your water bill.
Turn Off Water When Going on Extended Vacations
During the stormy seasons of the month, it's best to turn off all of your home's water whenever you're going away on an extended getaway or vacation. Turning off all access to water throughout your home will prevent potential leaks. This can also help to mitigate potential issues when storms occur and you are not on your property to address them immediately.

Choose the Right Flooring
Choosing between waterproof versus water resistant flooring will highly depend on the room(s) you are updating and their locations in your home. If you are updating the basement floor in your home, you may want to invest in a waterproofing service first, depending on the type of foundation you have in place. Choosing the right flooring in each room of your home will minimize the risk of flood damage while allowing you to enjoy the space in a style that is still truly your own.
Invest in Waterproofing Services for Your Deck
If your home has a deck attached to it or available outdoors, it's important to protect it as much as possible, especially during stormy summer months of the year. Investing in under deck waterproofing is one of the best ways to prevent water damage from occurring and accumulating on your deck, regardless of the size of the deck itself. Waterproofing underneath your deck will prevent water from seeping into the wood while simultaneously protecting the entire deck from rotting and in most cases, even potential mold growth.
If you are in the process of constructing a brand-new deck, consider waterproof versus water resistant flooring options when choosing the material that is best suited for your deck area.
If you are learning about waterproof versus water resistant flooring for your own basement, it's best to turn to a basement waterproofing company. Professional waterproofing companies that specialize in basement waterproofing understand how to determine risk factors and materials necessary to protect any home or commercial property. Basement waterproofing is not just advisable for homes that are prone to water damage or are located in flood areas. In fact, waterproofing is advisable for any home with a basement. Proper waterproofing is not only ideal to prevent leaks and floods, but it can also help to protect and extend the lifespan of a home's foundation when installed properly.
Work With a Local Rainwater Management Provider
As a homeowner, another way to address water damage and potential risks during the stormy season is to turn to a rainwater management company. When your home and property are prone to water damage, floods, and major storms, rainwater management companies can help provide a working irrigation or management system that is optimal for your property. Rainwater management companies can also devise solutions that will help to streamline the flow of water each time it reaches your roof, gutters, and surrounding landscaping.
Choose a Proper Home Insurance Policy
Choosing the right home insurance policy is one of the most important decisions you will make as a homeowner. When you do not carry home insurance, you are at risk of property damage and loss, which can result in the loss of your entire investment. However, when you're searching for a home insurance policy that is right for your home, it's important to consider all of your options, especially if you're in need of flood insurance. It's important to keep in mind that in most cases, flood insurance is separate from a traditional home insurance policy. This will vary based on where you live and where your home is located.
learn more about insurance policies that are best for your home and its potential flood or water damage risk, begin working alongside a professional home insurance company. A home insurance company can provide you with guidance and solutions for optimal protection.

Choose an Emergency Cleanup Company for Emergencies
When it comes to water damage cleanup, it's best to address it as quickly as possible, whether you're a homeowner or an investor. Water damage poses many different risks to not only the property itself but also to those who may be living in it. Some of the risks of standing water or water damage that is seeping through the home include:
Mold growth: Because of the potential risk of mold growth, it's important to inspect, identify, and eliminate any water damage that is located throughout your home immediately. Standing water will attract mold growth when left unattended and unaddressed.
Respiratory responses: Along with the potential risk for mold growth, there is also the risk of experiencing respiratory issues and responses when water damage occurs. This is commonly due to surrounding pathogens, bacteria, and mold growth. In addition to wheezing and coughing, allergy-induced asthma attacks may also occur.
Electrical risk: Floods and standing water in any area of the home can cause significant electrical risk. If the water in your home is greater than a few inches, it's imperative to cut power throughout the home before accessing any flooded rooms. Whenever possible, calling on professionals is highly recommended. Shocks are not only painful, but can cause serious reactions and, in some cases, even death.
Foundational damage: Allowing water damage to accumulate in the home poses a substantial risk to your home's foundation itself. Any room that sustains standing water over a period of time has a much greater risk of experiencing foundational issues such as sagging or a loss of structural integrity.
Anytime you are confronted with a serious water damage issue or flood in your home, it's best to contact emergency water damage companies. Professional emergency water damage companies will arrive on-site to assess the damage and to determine the best course of action to take based on the severity of the flooding or water damage that has occurred in or around your property.
When you are contemplating waterproof versus water resistant flooring, it's important to consider the current condition of your home as well as any potential risks you need to address. Choosing between waterproof versus water resistant flooring should only be done once you have complete control of all areas of your home when it comes to flood prevention and water damage remediation.