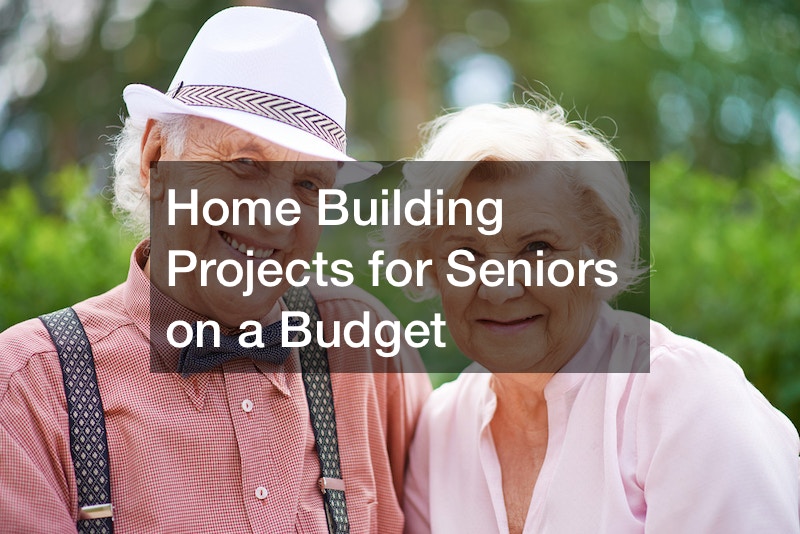 As you grow older and start experiencing issues with mobility and your vision, your housing needs will change. While there are options such as assisted living facilities and nursing homes, aging in place has been shown to offer several benefits. However, it typically necessitates making changes to your home.
Home renovation projects can get expensive, but it doesn't have to be the case. With the right approach, you can mitigate the financial burden. Here are seven home building projects for seniors on a budget.
1. Personal Touches
Adding pictures of family and friends is a great way to add a personal touch to your home. The good thing about this project is it's easy to execute. It'll give you something to occupy your mind during those quiet moments between mealtimes and activities. You can also use some of your favorite memorabilia, such as awards or souvenirs, as decor.
You should also consider adding houseplants. Home decor isn't the only benefit of having plants in the home. They also purify the air, which can help improve your health and mood. Opt for smaller plants such as succulents and miniature orchids to create a mini indoor garden.
Make use of your vertical space by hanging planters. If you have a large window, consider hanging a few wall planters across from it. Certain planters can fit several tiny plants.
A recliner is a great addition to home building projects for seniors. Reclining will help you find relief and improve circulation if you have swollen feet and ankles. An electric lift in the recliner can help you go from sitting to standing without undue strain.
A comfortable bed is important for people of all ages, but it's even more important as you age. Add a lovely bed skirt, supportive pillows, a beautiful comforter, and other accents to make your bed comfortable. To ensure you don't leave extra pillows on the floor as you unmake your bed at night, consider placing a basket or any other storage solution near your bed.
Investing in organization systems is also a great addition to home building projects for seniors. You don't have to choose between living with clutter and giving up everything you cherish. Intelligent organizational systems will ensure you use every inch of available space. For example, a closet organizer will allow you to use the whole closet and not just the hanging bar.
Stackable organizers, baskets, and drawers will help keep clutter from where they can pose a fall hazard. They'll also make it easier to find things when needed if you use labels or color coding. The good thing is you don't have to invest much money.
You can find affordable organizational products from your neighborhood dollar store on a tight budget. If you have the funds, consider onboarding custom home builders for your project. They'll recommend the best organizational systems for your home and perform the installation.
2. New Window Treatments
As you age, mobility or vision issues can make reaching and adjusting manual window treatments difficult. For this reason, motorized window treatments are a great addition to home building projects for seniors. These treatments eliminate the need to climb on stools and chairs to operate them as they typically come with a remote control or can be controlled using voice commands or a smartphone.
They also help to maximize energy efficiency as you can program them to open and close at specific times of the day. Doing this will allow you to maximize natural light and regulate indoor temperature to an extent. Over time, it'll reduce your home's energy bills.
Contrary to what most people believe, motorization doesn't limit your window treatment options. There are different types of motorized shades and blinds. These include Roman, roller, solar, cellular, transitional shades, wood, and faux wood blinds.
These options come in various styles, fabrics, and color choices, so you won't have to sacrifice aesthetics for functionality. Besides a portable remote, there are other ways to control motorized blinds and shades. These include a wall switch, wand, phone app, and home automation system.
For window coverings compatible with home automation, you can access them from your Smarthome hubs, such as Google Home or Amazon Echo. If you use a portable remote control, consider mounting it on a wall to ensure you don't lose it and it's always accessible. It would be best if you also considered getting motorized home exterior shutters. They'll protect your windows and the treatments.
3. Upgraded Wiring
Upgrading wiring is also a great addition to home building projects for seniors. If your home has older wiring, consider upgrading to ensure safe and reliable electrical service. An upgraded electrical wiring install can improve your home's energy efficiency, reduce the risk of electrical hazards, and provide better performance for electrical devices and appliances. Some wiring upgrades to consider include:
Ground Fault Circuit Interrupters (GFCIs): GFCIs are electrical safety devices that guard against electric shock. They monitor electrical current fluctuations and cut off the circuit's power if an imbalance is detected. GFCIs are especially important in places like restrooms and kitchens where water is constantly present.
Arc Fault Circuit Interrupters (AFCIs): These electrical safety devices protect your home against electrical fires brought on by arcing faults. They continuously monitor the current and distinguish between normal and unwanted arcing conditions, then de-energize the circuit if necessary to reduce the potential of a fire. The National Electrical Code mandates them in most areas of the home, including bedrooms and living rooms.
Tamper-Resistant Outlets: These outlets make inserting things into the outlet difficult. They feature a spring-loaded shutter that closes off the openings to the contacts when the outlet is not in use. This addition will make your home significantly safer.
Whole-House Surge Protection: Whole-house surge protection helps to protect against power surges. A power surge can cause significant damage to your electrical devices and appliances. These devices are typically installed at the main electrical panel and protect all electrical circuits in the home.
4. Modern Aesthetics
Consider modernizing your home's aesthetics as part of your home building projects for seniors. Doing this will refresh the feel and look of your home. There are several ways to approach this project.
Unlike traditional styles, a modern aesthetic doesn't require strictly defined spaces. It embraces an open floor plan rather than dividing your living spaces. Consider this design approach for your new home build, especially if you have a tiny home, to give the impression your living room is much larger than it is.
Another way to modernize your home's aesthetics is to stick with straight lines. This approach will introduce a sleek feel to your home. Decorative details and curved lines are more traditional, which is the opposite of what modern aesthetics entail. Integrate strong vertical and horizontal lines when planning your home's interior.
Stick to a neutral color palette when choosing a new color scheme for your home for a modern aesthetic. You want to avoid wallpapers with intricate patterns as they're overwhelming for this minimal style. Instead, you should go for lighter, more neutral hues like white and grey and white to highlight natural wood features and industrial elements in your home.
A neutral color palette will bring out your bolder accents and highlights. Don't forget to factor in the color of little details such as light switches, knobs, handles, and outlet covers to realize a modern aesthetic. Your home may feel dated if you have a yellowed light switch cover or if the cabinet knobs are mismatched.
Regardless of the direction you decide to take, it's always best to work with professional home renovation contractors. Don't just give the job to a family member who 'needs the money' or a contractor who's just started. A professional will give you the best outcome.
5. Antique Undertones
While functional home projects like scheduling propane home services are an essential part of home building projects for seniors, don't forget about the aesthetics. If you're a fan of vintage aesthetics, note that choosing the right undertones can make all the difference. Warm undertones like yellow, red, and orange can help create a cozy, inviting atmosphere reminiscent of antique spaces. You can incorporate these undertones through wall colors, upholstery fabrics, and accessories like rugs and curtains.
Earthy undertones like brown, beige, and green can help create a natural, rustic vintage feel. Use these undertones for wood finishes, stone accents, and natural textiles like wool and linen. Cool undertones like blue and gray are also great for wall colors, upholstery fabrics, and accessories like artwork and vases.
6. Efficient Security
Home security systems are important for all homeowners but are essential for home building projects for seniors for several reasons. As you age, your physical abilities and cognitive functions may deteriorate, making you more vulnerable to accidents and an easy target for burglars. For this reason, you need an efficient security system for your home. Here are some of the best home security systems to consider:
Medical Alert Systems: Medical alert systems ensure prompt assistance in case of medical emergencies. They feature a wearable device that you can activate to alert an emergency response team in case of falls or other medical emergencies. The device can be in the form of a pendant or wristband. This system is a great addition if you live alone or have mobility issues.
Smart Home Security Systems: Smart home security systems employ sensors and cameras to detect intruders or unusual activity around the home. You can connect your system to a mobile app or a central monitoring system to alert the relevant authorities in a security emergency. You can also have your installer program the system to send alerts or notifications to family members.
Video Doorbell: A video doorbell is an excellent addition to any home gate and entry system. It'll allow you to see who's at the door without opening it. You can connect this security feature to a mobile app to monitor your front door and gate from anywhere.
Automated Lighting: You can set autonomous lighting to turn on and off at specific intervals. It'll give the impression that someone is home even when you're not. This addition will also eliminate the need to manually operate your lights, which can be helpful when experiencing mobility issues.
7. New Roof
A new roof is also a great addition to your list of home building projects for seniors. As your roof ages, its structural integrity will deteriorate. At some point, the cost of frequent residential roofing repairs will start to pile up, and delaying roof replacement will only cost you more. If you need roof repairs two, three, or more times a year, you're better off investing in a new roof in the long run.
A higher-quality roofing material will require less upkeep over time. For example, high-quality, dimensional asphalt shingles have a higher initial cost but last longer and require fewer repairs on average. Regardless of the material, a new roof will save you money.
Another problem with older roofs is that they allow moisture to creep inside the home. Even a small leak will build up over time and trigger the growth of mold and mildew. Their presence will cause potential health problems, especially if you have allergies or underlying respiratory problems. In this case, a new roof will make your home healthier.
Your roof warranty most likely expired long ago. A new roof will come with a new manufacturer's warranty. Most provide limited-time coverage for some repairs and occasionally even parts and labor. Your warranty will depend on the roofing contractor and the roofing materials you select.
One of the most important parts of ensuring you get the most out of the useful life of your roof is working with professionals. They'll give your project the attention it deserves and use the best techniques and materials. Consider hiring custom home builders La Quinta Ca for your project.
Opting to age in place necessitates changes to your home. Home building projects for seniors differ from those for young new homeowners. Whether you're looking to downsize, retrofit your current home, or build a new one, these tips can help you create a comfortable and functional living space to meet your needs and budget.