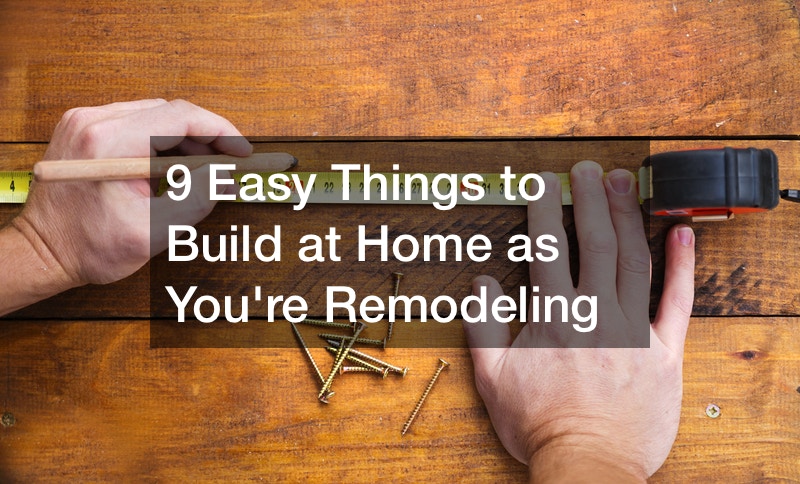 If you're in the middle of a remodel, you can turn it into an opportunity to tackle something you've always wanted to build. Whether installing new cabinets or adding a backsplash, several household items are relatively easy enough for beginners to make themselves. There are many easy things to do at home as you're remodeling. These include;
Begin in the Kitchen
Knowing where to start is challenging regarding home remodeling and the easy things to do at home. It's a good idea to consider what area of the house needs improvement first and then break it down. The most often overlooked aspect of kitchen remodeling is storage. Clutter can cause frustration, not to mention you might waste food as it goes to waste sitting in the back of your refrigerator or your pantry.
An excellent start is with an under- cabinet design and wall-mounted storage solutions. Pull-out drawers and compartments, spice racks, and pot pull-outs are all ideal solutions for maximizing kitchen storage and space. As a bonus, they help clear your counters, making them more conducive to food preparation and kitchen workflow.
Consider the portable type if you're working with a small kitchen and there isn't much room for an island. Portable islands can be moved around the kitchen for counter space during food prep or left closer to the wall for extra seating. The wheels make them easy to carry around your kitchen or even out of it when you're entertaining. Smaller islands can add similar features like pull-out drawers and compartments, additional storage, and even an extra surface area.
Add More Natural Light
You can consider easy things to do at home while renovating that will add more natural light to your home. You can install skylights to allow natural sunlight during the day and evening hours, providing an extra level of brightness and often a feeling of increased space. They also use less energy than electric lighting for the same level of visibility. They might also increase your energy bill slightly.
You can also do window replacements to move south-facing windows. South-facing openings are the best source of natural light and are ideal for areas that you use most. They should be placed within a direct line of vision while sitting or standing and be visible from anywhere in the room where you spend most of your time. If the sun is shining through these windows at mid-day, you may need to place some outside shades or blinds to control its brightness.
While you don't need additional lighting in every room, rooms with more natural light will often appear larger and brighter than those without light. In cases like this, it's well worth adding wallpaper trim lights or another decorative lighting to bring more light into the house.
Manage Your Home Temperature
One of the easy things to do at home is to manage your home temperature. Insulation is an integral part of any building, especially when remodeling. It helps to keep the house warmer in the winter and cool in the summer. Consider building your insulation when remodeling a home and looking for ways to save money without compromising quality.
The biggest issue with overheating is ventilation; hot air rising can only go so high before being cooled by the air coming in from outside. With proper ventilation, you can avoid the pitfalls of not opening windows in the winter when it's cold out and being unable to afford gas or electric bills.
As a homeowner, you have complete control over your home's ventilation. The key is ensuring proper ventilation at all your ducts so that the hot air can escape outside through breezes. Your furnace or air conditioner doesn't automatically regulate airflow; instead, you can use fans and intake vents to keep your house cooled throughout the summer and controlled through adjustments to your thermostat. It is also helpful to do regular ac maintenance to manage our home temperature.
An open floor plan is all the rage in modern homes because it allows you to let more light into your home while maintaining the privacy of closed-off rooms. In fact, with an open floor plan, you can install a window at the end of your kitchen and keep a door between it and your living room. That way, you can have extra seating in your kitchen without compromising comfort in other areas of your home.
Check on Your Foundation
Inspecting your foundation is among the easy things to do at home. The initial thing you have to do is check your foundation for integrity before beginning any other project. It is essential if it's been a while since you last reviewed it. You'll need to take several additional steps if you have a crawl space.
If you see rotted wood in your crawl space, rip it out and replace it with new wood. If you have some vast holes or lots of smaller ones, consider putting down a layer of gravel or rocks to cover the dirt, then covering that with plastic before putting down new wood. It will help keep the soil from getting in again. If you don't have a crawl space and you don't have a large hole in your roof, you can use a flat piece of wood or plastic for the bottom of your new floor joists under and over the holes in the ceiling.
If you've decided to install new flooring or basement waterproofing, look at where your floor joists are going. Put a heavy weight on one end, then tap on the other to transfer that load. If you hear a sound, that indicates there's poor support there.
Prevent Water and Weather Damage
Preventing water damage is one of the easy things to do at home. You can take a few measures before and after a remodeling project to safeguard your home from water damage. Start by checking your drainage system and ensuring it's in good condition. Then, replace your gutters, which may have cracks or be too small for the house. You can achieve this with the help of a roofing contractor.
Once the channels are changed, get a sump pump installed so that if there is ever rainfall, it automatically pumps the water away to protect against flooding. It pays to start making these changes beforehand if you plan on remodeling soon.
You can prevent water damage by painting all the joints in the ceiling and walls with good paint that can protect you from water damage. If leaks are in the top, you can schedule a roofing repair job as soon as possible. Next, install a drip foundation drainage system. It will make it easier for water to flow away from the house. Check it every few years to ensure the proper functioning and replace it whenever necessary.
In addition, you should also make sure you have a chimney sweep come by once or twice a year to clean out any wood or soot buildup that may compromise your chimney's integrity. If you have a basement, seal all the cracks and crevices between the foundation and the home.
Keep Everything Flowing Nicely
There are many easy things to do at home as you're remodeling. A septic system is one of them. It's a good idea to contract with septic services experts to design, install, and service your new system if you are a first-time homeowner.
Installing a septic system is the best way to keep your water safe, including all its chemicals, free from human contact. A septic system has a holding tank, solid and liquid waste separation areas, and septic vaults that take solid waste away from the tank. Having a septic system installed is crucial for the long-term health of both the environment and our health.
You can use septic systems in residential areas and as a primary wastewater treatment core Service in commercial spaces such as hotels and nursing homes. It is helpful to install these core systems before the plumbing installation in buildings.
Invest in Outdoor Living
One of the easy things to do at home is to invest in your outdoor space. With outdoor living, it's vital that all the surfaces have adequate drainage and some form of insulation is typically necessary, too. It's also an excellent idea to ensure your family has plenty of access to natural light and open space for play during the day. Knowing what you're investing in is essential before deciding on a partner for your next outdoor living project.
Regardless of the circumstances surrounding an outdoor project, it's always wise to consider what you want before digging. A concrete patio is attractive and cost-effective for outdoor living.
There are plenty of reasons for paving an outdoor space, but the most important is usually security. Concrete is exceptionally sturdy, and cracks that appear on other types of surfaces are never a problem with a good slab. From small children who like to climb up and play to curious neighborhood dogs, a concrete patio offers ultimate protection from those who might otherwise cause harm.
Visit your local deck builder or hardware store and study the available options before you start to build. Each hardware store will have something different, with some darker and some lighter colors. You can also paint for an even more customized look. In addition, consider the maintenance required of your concrete patio compared to other types of outdoor surfaces.
It's essential to make sure your concrete is the right thickness to support the patio you want. Your deck should be three inches thick for an outdoor kitchen or seating area. Most hardware stores can provide details on types of concrete and how they will perform under certain conditions.
Building a concrete patio requires very little specialized knowledge and is one of the easy things to do at home. Anyone with enough power tools and know-how to do basic carpentry can do it. The process takes time, so you need to plan.
Create Privacy for Yourself
Fencing is one of the easy things to do at home as you remodel. It often gets put off because it is expensive and not fun to deal with when remodeling. A fence addition gives you a lot of extra space in your home. You can make or purchase your own or have fence installation services do the job for you.
Apart from fencing, you can also consider building a privacy screen. The main advantage of making a privacy screen is that it will not only hide your patio but also make it much more comfortable. Weather conditions, like rain and wind, are no match for the screening material.
On the other hand, sunshine gets passed through the screening with no problems at all. The transparent material also protects the patio from dust, reducing clutter and keeping the area more organized. Additionally, by covering the deck with a solid screen, you ensure that everyone's feet stay cool and dry on those hot summer days when there are few shady areas in your home.
Finish it Off With Color
Homeowners are always looking to find ways to personalize their space, especially if they're remodeling or moving. Painting is among the easy things to do at home while renovating. One way you to do this is by adding color throughout the house with the help of home painters.
You can add color by painting your walls, decorating with rugs and wall hangings, or selecting throw pillows and comforters in complementary tones. You can also bring contrast into your space by creating different combinations of sobriety and boldness. Playing with contrast will emphasize the areas you choose for it, so pay close attention when designing an area of your home.
By adding color to your space, you have the opportunity to express your style and personality. When used correctly, color can give you a sense of comfort and make your area feel like home.
In conclusion, remodeling your home is an excellent way to spruce up your property and make it more efficient. If you're doing a lot of construction at home, you'll want to take some time to learn how to build some new things for everything that's going on around you, not to feel like such a big thing.
There are easy things to do at home while you're remodeling. Most of them require no money so that you won't drain your budget. Remodeling often takes significantly more time than anticipated. That could be the perfect opportunity to try some new project or skill in the meantime and find something to do with all that spare time!